Sinbad Joins Al Sharpton and Jesse Jackson To Talk Trayvon Martin, Tells Parents: 'I Will Fight For You'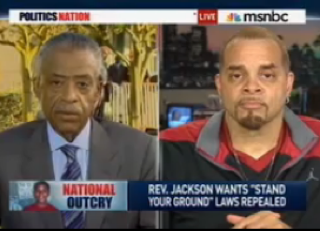 As the Trayvon Martin case receives more and more national attention, a number of famous entertainers and non-political celebrities have come out to take a stand and call for further investigation into the teenager's death. This has sometimes resulted in rather unorthodox cable news panels, like tonight's on PoliticsNation, where host Rev. Al Sharpton, Rev. Jesse Jackson and comedian Sinbad, who told the group he felt obligated to speak up as someone with a spotlight on himself.

RELATED: CNN Reports 'Black Panthers' Offering Bounty On Trayvon Killer George Zimmerman
Rev. Jackson began the discussion with a list of demands he sought– "we want Mr. Zimmerman arrested; we want the law repealed, the law that encourages vigilantism," he also wanted a "ban on assault weapons" and urged that "we've become too relaxed on the issue of violence in our land." Sinbad did not have similarly political comments, but instead noted that the situation was on its face too heinous to remain quiet. "I know we've got crazy racism still, but to believe that someone can shoot and go home for dinner," he told Sharpton, "it's like a hunter– like he went out to hunt for an animal, bagged his animal and went home." He thanked those in social media for bringing it up.
Sinbad won't be the first or last unexpected name to pop up and weigh in on this issue– from LeBron James to Diplo to, later on tonight, Chaka Khan. And Sinbad told Sharpton he believed there was a responsibility upon celebrities to speak up. "You're the ones who kids look up to, you're the one the world is looking up to, you're the one getting TV time," he told Sharpton, "how can you hide your face?" He added that he was not speaking up because of Martin's race: "anybody's child that is put down like this, I will fight for you."
Jackson got the last word, calling for the incident to be a "teachable moment" for voters that they "can serve on juries, voters can elect sheriffs" and can avoid investigations like this one by speaking up.
The segment via MSNBC below:
Have a tip we should know? tips@mediaite.com