Single 17 Year-Old Suspect in Custody in Texas High School Quadruple-Stabbing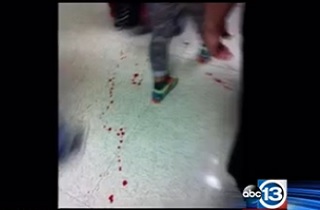 Violence erupted in the cafeteria of Spring High School in Spring, Texas Wednesday morning, and when it was over, one student was dead, and three others were injured. A single 17 year-old suspect has been taken into custody in the stabbing, which police tell ABC-13's Ted Oberg may have been gang-related. The deceased victim has been identified as 17-year-old Joshua Broussard. From Houston's ABC-13 KTRK:
A 17-year-old is dead and three other students were injured in the stabbing at Spring High School shortly after 7am today. Students were released after a tense lockdown lasting until after noon, and classes have been cancelled until Monday.

The violence broke out at the high school on Cypresswood at North Freeway at the beginning of the school day. A confrontation at 7:10am in the cafeteria area led to a fight with cutting instruments. The weapons used are still being investigated and haven't been found, according to the Harris County Sheriff's Office.
Two of the victims were treated for minor injuries, while a third was initially listed in critical condition.
KTRK reporter Kevin Quinn tweeted photos of the suspect, whom police have not identified, and said the suspect wasn't talking. "He refused to tell me what his involvement might have been. Wouldn't answer any questions," Quinn tweeted.
KTRK also reported that parents were frustrated over the slow flow of information from the school district, including a three-hour delay before the first electronic alerts were sent out.
The Houston area was also the site of a school mass-stabbing in April that resulted in 14 injuries, none of them fatal, while in January, Lone Star College's North Harris campus was the site of a shootout that resulted in 3 injuries, and no fatalities.
On December 14, 2012, the same day as the horrific shooting in Newtown, Connecticut that killed 26 people, a mass-stabbing in China wounded 23 children and one adult, but resulted in no fatalities.
Here's KTRK's report on the stabbing:
[photo via screengrab]
Have a tip we should know? tips@mediaite.com