Sister Of Navy SEAL Killed In Libya: I Don't Agree With Mom's Anger At Romney, 'Let's Blame The Terrorists'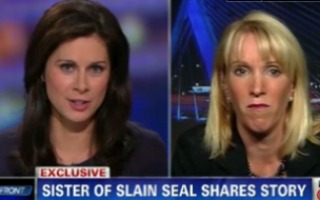 On Wednesday, CNN's Erin Burnett spoke with, Kate Quigley, the sister of Glen Doherty, a fallen Navy SEAL who had died in the recent attacks on Benghazi and whom presidential candidate Mitt Romney recently mentioned while on the campaign trail. Burnett asked Quigley whether her brother had shared any fears or concerns over the security situation in Libya.
"He knew very well the risks of what he did," Quigley said. "He was well aware of what he was doing, yet he still made the choice to do it anyway, because he loved fighting for America and he loved being a part of when a country was starting to become liberated, and making real change and helping people."
As for the changing narrative about the attacks in Libya, Quigley said that "the politics of it all are disturbing."
RELATED: Slain SEAL's Mom Gets Mitt Romney To Stop Mentioning Her Son On The Stump
Glen and Kate's mother, Barbara Doherty, recently released a statement asking for Romney to stop mentioning her son, adding that, "I don't trust Romney. He shouldn't make my son's death part of his political agenda." Burnett asked Quigley if she felt the same way.
"You know, I don't," she replied. "And my mother is angry, and she's grieving. The fact of the matter is what Governor Mitt Romney said about Glen is true, and he called him a hero and we're honored by that. And we're honored by what Obama did for their homecoming. The fact of the matter is, is being an American hero can be completely bipartisan and everybody wants to point fingers and play the blame game – let's blame the terrorists because that's who's at fault here and that's where we should be focusing our energy."
Watch, via CNN:
Have a tip we should know? tips@mediaite.com