Sky News' Alex Crawford Wins Deserved Praise For Her Live Coverage From Tripoli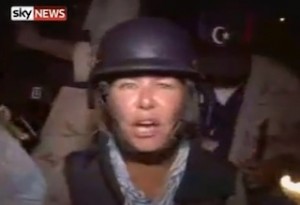 Before most U.S. cable networks sleepily turned over their pre-tapped Sunday broadcasts, Britain's Sky News' Alex Crawford had won the attention of Twitter users and fellow reporters alike with her reports, live from the back of a Libyan rebel pick-up truck. "This is going to be the biggest party Tripoli has ever seen," she said, with reason of her own to celebrate, as first to report from amidst an early wave of celebration in Tripoli's renamed Martyr's Square.
Decked in a helmet and flack vest, stationed in the back of a rebel pick-up truck, she was the first, and perhaps best placed, western reporter in Libya yesterday. And just how did she make that happen? With her MacBook Pro and a mini-satellite dish connected to the truck's cigarette lighter socket, charging like you might a cell phone on a long car trip, and a producer who was savvy enough with a compass to keep the signal up throughout the  broadcast.
Technical logistics aside, to be first on the scene of such a momentous occasion is a feat; and with bullets flying everywhere, albeit in celebration, it was a great one. Sky News executive editor Chris Brikett told Michael Calderone of the Huffington Post that Crawford had made close contacts with Libyan rebels earlier this year in Zawiya, and that, as a result, she was able to "to make an assessment whether it was safe to go in with the rebel convoy into Tripoli" while others may have hesitated.
Crawford was eventually joined on-air by Al Jazeera English's Zeina Khodr and CNN's Sara Snider, but not before she became a world wide trending topic on twitter and attracting over 1,000 U.S. viewers to Sky News's broadcast, streaming live on-line, where most viewers were getting news while MSNBC let their regularly scheduled programming run until 8PM. As a result of a content-sharing agreement, her report was later rebroadcast by CBS News, as well as by Sky's News Corp. sibling, Fox News.
The tone of the video clip below, is all-around, and rightfully, jubilant.
Have a tip we should know? [email protected]