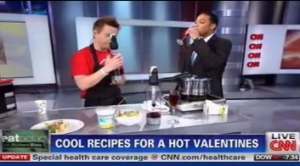 During CNN Newsroom today, anchor Don Lemon spent nearly ten minutes learning how to cook a Valentine's Day meal and sipping a non-alcoholic drink. Apparently in the absence of breaking news, an extremely long cooking segment in the middle of the day is what "the most trusted name in news" feels warrants our attention.
This criticism comes only as a result of CNN's great coverage of the Egypt protests and being a place where many viewers who don't regularly watch cable news will turn to first in the event of breaking news. However, if CNN wonders what they can do to attract more viewers when the news is a bit slower, a sleep-inducing cooking tutorial is not the recipe for success.
Yes a break from serious issues should occur, and even the promise of learning "how to cook a valentine's meal for your loved one when you don't necessarily know how to cook" sounds mildly appealing. Yet if that task can't be accomplished in just a minute or two, or is not somehow uniquely and entertainingly presented, then maybe shouldn't the entire segment be reserved for the fluffier morning hours? Instead, "cool recipes for a hot valentine" and more information about beet juice than anyone would ever be interested in is what we get.
Maybe picking on CNN for this segment is as time-wasting as CNN doing the segment, yet although both seem to be motivated by the curse of a slow news day, this is the first time we're discussing it, but CNN's Eatocracy is apparently a recurring segment. Stick a fork in it . . . please.
Watch the just two minutes of the epic cooking segment below from CNN:

Have a tip we should know? [email protected]