Small Business Owner Would Still Vote For Newt Gingrich After Gingrich Stiffed Him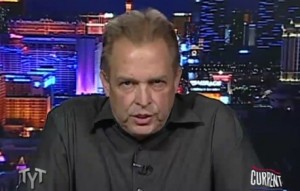 On the heels of reporting on the Newt Gingrich campaign's Tigger-esque checkbook, Current TV's The Young Turks interviewed a small businessman who says he was stiffed by the presidential (still) (mystifyingly) hopeful. TYT contributor and host of TwenTYTwelve Michael Shure interviewed Las Vegas businessman Larry Scheffler, who says Gingrich owes him about $8,000.00, and that even though Gingrich blew him off on the phone when he tried to collect, he would still vote for the former House Speaker over President Obama.
Las Vegas Color Graphics owner Larry Scheffler told The Huffington Post that he normally doesn't extend credit to politicians, but made an exception based on a friend's say-so. "They said they were going to pay right away," Scheffler said in an interview with HuffPo.
Last night, Scheffler told The Young Turks' Michael Shure that he called Gingrich about the money he's owed, and Gingrich told him "I'll try to scrape some money together to get you paid," then abruptly hung up on him, without getting any contact information, or details.
"Even if I don't collect it," Scheffler said, "I still would have to vote for him if he's the Republican nominee over President Obama."
Here's the clip, from Current TV:
Host Cenk Uygur seemed surprised by this, but he doesn't know the half of it. Scheffler's company may qualify as a "small business" with under 500 employees, but according to a local news report, even a pre-expansion Las Vegas Color Graphics was raking in north of $12 million a  year, with some help from the oppressive hand of big, bad government. In 2004, Scheffler sold 51% of the business to his daughter, Heidi Bridges, which allowed the company to take advantage of a government program aimed at "disadvantaged businesses":
Las Vegas Color Graphics was eligible for certification from the Nevada Department of Transportation for its Disadvantaged Business Enterprise program. The program requires contractors to subcontract to certified disadvantaged businesses to give them more revenue and keep them competitive.

"That includes people of color, women or people who don't fit into those categories, who can show they've been discriminated against," said Roc Stacey, contract compliance manager for the Nevada Department of Transportation.

Typically, certification is saved for laborers who work on transportation projects. Major casino corporations on the Strip, trying to hire minority-owned businesses for subcontracting work, have made the certification more popular for businesses like Las Vegas Color Graphics that don't fit the program's usual mold.

…Nearly two months have gone by since Las Vegas Color Graphics received its certification. Bridges started to see a change in business right away, she said.

The company, with 110 employees and 1,500 clients, has a goal of $14 million in sales this year, up from $12.4 million last year. Bridges admitted, with the certification, Las Vegas Color Graphics might exceed the numbers.

"Just the increase in the last 30 days from one client is unbelievable," Bridges said. "They are already sending in more bids. It's opening the doors for us to bid on projects we couldn't bid on before. They didn't want to veer away from us to use a minority vendor. Now that we're certified, they're ecstatic."
Gingrich may have stiffed Scheffler, and big government programs may have helped him get what he has now, but a candidate like Newt Gingrich or Mitt Romney will always help him hold onto more of it than someone like President Obama.
Have a tip we should know? tips@mediaite.com