Smith Family Member Says Trump 'Crossed the Line and Took It a Little Too Far' At Al Smith Dinner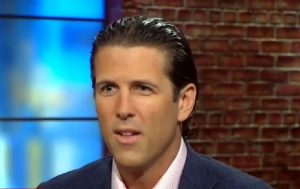 Following last night's Al Smith Dinner, Al Smith V appeared on CNN's New Day to discuss the speeches given by presidential candidates Hillary Clinton and Donald Trump.
Trump has come under fire for the tone of his speech as many of the jokes he delivered at Clinton's expense were seen as mean-spirited and against the tradition of the event, which is supposed to serve as a break from the harsh campaign rhetoric. On top of that, there was a definite lack of self-deprecation from Trump, something that is expected from the candidates who appear.
Speaking to host John Berman, Smith felt that the GOP nominee crossed the line early on and compared his performance to that of Wednesday's debate.
"I think what we saw a lot in the last debate a couple nights ago we saw last night," Smith said. "Donald had very solid minutes early on and eventually he crossed the line and took it a little too far."
Smith also noted that Trump's darker tone made it more difficult for Clinton, who followed him up.
"That certainly took the tone in a different direction," Smith explained. "I think ultimately at the end of the day, that made things a lot harder for Hillary when, ultimately, she got the mic she had some very funny things that she had said and I don't think they got as many laughs as they could have because the tone in the room had shifted a bit."
Smith did acknowledge that the event was a success from a charity perspective as it raised more than $6 million. He also praised both his father and Cardinal Dolan, who hosted the event.
Over the past seven decades, the Al Smith Dinner has generally served as the final event where the two major party presidential candidates are in the same room together before Election Day.
Watch the video above, via CNN.
[image via screengrab]
–
Follow Justin Baragona on Twitter: @justinbaragona
Have a tip we should know? tips@mediaite.com