Snakenado: CNN Uses Unbelievable Stock Photo In Report On Children Killed By Python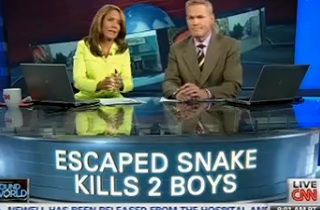 August is infamous for its stingy news yield, which is directly proportional to the amount of hype news outlets will give to what little there is to cover, a phenomenon known in media circles as "shark-week coverage." This week appears to be Snake Week, as a second story in as many days revolves around a 100-lb python, but a much sadder one this time. In covering the story of two young Canadian boys who were apparently killed when a python escaped from its cage, CNN used an unbelievably crass stock photo from Getty Images to sweeten its video package.
Two brothers, ages 5 and 7, were found dead in the Campbellton, New Brunswick apartment above Jean-Claude Savoie's Reptile Ocean pet shop, apparently strangled by the escaped python. It's an incredibly sad story, but in covering it, CNN couldn't help but sensationalize it. CNN Around The World anchor Suzanne Malveaux began the report with the absurd observation that "It happened less than a hundred miles from the U.S. border," as if we need to start building a snake fence, and in a telephone interview with famous Columbus Zoo director emeritus Jack Hanna, speculated about what might have happened.
Hanna observed that while the snake's escape and apparent journey through the building's ventilation system wasn't surprising, but that the snake was able to strangle both children seemed unusual. He also talked about the strict rules in Ohio for owning dangerous reptiles, and the alarming snake situation in Florida, where released pets have grown into a huge population of Burmese pythons in the wild.
During their interview with Hanna, though, CNN played a slideshow of stock images, one of which could seem, to the average viewer, like a chilling photo of the two victims holding a python: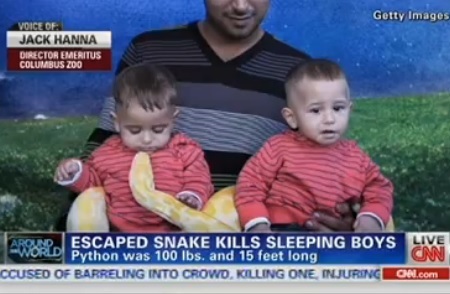 Of course, it's not. From Getty Images:
An Arab Israeli father and his children pose for a photograph with an albino python snake on the second day of Eid al-Adha holidays at a street photo studio the northern Israeli city of Acre on October 27 2012. Muslims around the world commemorate Eid al-Adha, or the Feast of the Sacrifice, marking Abraham's willingness to sacrifice his son Ismail on God's command. AFP PHOTO/MENAHEM KAHANA (Photo credit should read MENAHEM KAHANA/AFP/Getty Images)
Many people don't know that Getty Images is a stock photo company, and the company also sells editorial photos. If CNN wasn't trying to pass this off as a photo of the two victims, it certainly came across that way. If you're doing a story about two kids killed by a python, and you show a photo of two kids holding a python, you have a duty to make sure people know these aren't the two kids who were killed by a python. In order to have avoided confusion, CNN should have labeled them "stock photos," at a minimum. They could have also been clearer that a 100-mile U.S.-Canada snake perimeter is not an urgent safety concern.
But even those viewers who understood this was a stock photo might find this picture a smidge crass and exploitative. Sometimes, the answer is no, you don't have to draw a picture for us.
Here's the clip, from CNN Around The World:
Have a tip we should know? tips@mediaite.com