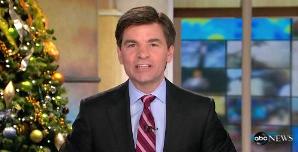 The final numbers are in for George Stephanopoulos' first week on Good Morning America.
So how did he and the rest of the new ABC News morning show team do? It depends on how you look at it.
NBC's Today show led the way as usual, with 5,980,000 total viewers. ABC averaged 4,600,000 and CBS' The Early Show averaged 2,870,000. In the A25-54 demographic, NBC had 2,690,000, ABC 1,930,000 and CBS 1,210,000. It was the largest best ratings for GMA in the demo this season. NBC is far and away the industry leader in the category, has been for years and likely will be for a long time. Still, the question is whether ABC can make up some ground.
Last week was the beginning of the new team (also with the addition of Juju Chang), but the prior week was notable as well – Diane Sawyer's last on the show. During that week, ABC averaged 150,000 more total viewers, and a slim 1,000 less in the demo. NBC was basically even, and CBS averaged more in both categories during Sawyer's final week.
Although it is just one week, how CBS performs after the changes at ABC is important to watch as well. So far, as GMA Executive Producer Jim Murphy predicted to Mediaite, CBS has not been helped by the new GMA line-up.
But with both of those rare weeks (Stephanopoulos' first, Sawyer's last), how did George's first week compare to the week before Sawyer's final week? In total viewers, ABC is way up, while NBC is up slightly and CBS is up slightly less.
And comparing Stephanopoulos' debut week to the same week last year, we see another trend – all three network morning shows are down year-to-year. For NBC, the difference is slight, but ABC is down more than 250,000 and CBS down nearly 700,000 total viewers when compared to the same week in 2008.
So what do these stats mean for Stephanopoulos and the future of GMA? It's probably still too early to tell. Trying to unseat Today will be significantly harder for GMA than it was for This Week to catch up to Meet the Press. But as 2010 begins, the shuffle will be seen as a success, for now, if the ABC show can hold steady in its place, approximately one million plus total viewers behind Today. In the long run, as Murphy told us, "We define success as an improvement in the numbers."
—–
» Follow Steve Krakauer on Twitter
Have a tip we should know? tips@mediaite.com