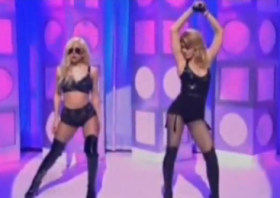 Last night, SNL packed one hell of an A-list cameo: MADONNA. Made all the more A-list by the fact that she SANG WITH LADY GAGA. Admittedly she didn't sing much and it sorta seemed like she dropped her first line, but who cares? She struck a pose, and had a girlfight with Gaga that is sure to leave a lot of gay men very conflicted.
Also, for the first half of the sketch I thought she was Abby Elliott, who is 22. For reals. Now THAT is a successful night for a 50-year old. Over the what? No way. Also her arms looked very healthy and normal, for what it's worth.
This was a win-win for all concerned. For SNL, which once again has it's über-YouTube moment, and proof of its irresistible, Zeitgeist-tapping drawing power (Madonna and Obama have both done cameos – Oprah can't be far behind). For Lady Gaga, whom many viewers have still no doubt not heard of and whose stardom is newly-minted, it was a visual affirmation in the form of sharing stage time and diva-stature with the woman upon whose groundbreaking shoulders she stands. And for Madonna, who has a new CD coming out, proving that she's still got it both in terms of star power, a sense of humor, and a perfectly-sculpted ass. Like, seriously.
Video of the Madonna-Gaga slapfest below – with almost kiss! – along with the full "Deep House Dish" sketch, anchored ably by Kenan Thompson and featuring Andy Samberg, Kristen Wiig, and guest host Ryan Reynolds. Recap of the ful SNL episode here.



Just in case they're taken down:


…and Laday Gaga performing "Paparrazzi":
Two things are abundantly clear from this performane, which came directly after the post-Madona commercial break: (1) Lady Gaga owes one hell of a debt to Madge; and (2) She is the real deal.
Have a tip we should know? tips@mediaite.com