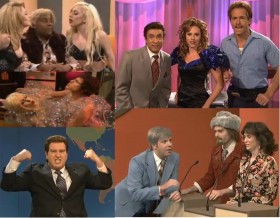 Did you miss SNL last night? Had a life – and a busted TiVo? Fear not – here are all the clips from last night's Saturday Night Live hosted by Ryan Reynolds (an excellent, team-player of a host), worth noting and then some, musical numbers by quadruple threat Lady Gaga (sing, dance, act-ish, and play piano beringed by a giant metal contraption resembling a solar system), plus cameos by Madonna (more on that here), Reynolds-wife Scarlett Johansson, random face Elijah Wood, and former cast member Darrell Hammond, off the show officially but apparently all set to be a permalancer worthy of Michael Moore. This was a good ep — worth it only if you watch Lady Gaga's final performance, which proves that she's the real deal. But the ep was filled with strong moments — a big improvement over last week's slightly bland effort starring Megan Fox (maybe that's what happens when your sketches aren't all excuses to dress the hot host in sex-kitten outfits).
Videos below. Enjoy!
Cold Open: Obama on his Track Record
Ouch. Scathing sketch on what Obama has/has not accomplished in his 8 months in office (though realizing we're a month shy of the one-year-anniversary of his election is a shock). Armisen's Obama impression, which I've always liked but which others have impugned, is a little lax to start, but since he nails the "Nnno!" and that word gets lots of play during the sketch, it's a win. Also a win for the truth-hurts subject matter. (Though of course, to be fair, re: the Olympics and health care and even Afghanistan, who wants a president who signs on just because it's easy and he's sure he'll win? Come on.)
Ryan Reynolds' Monologue
Ryan Reynolds was a terrific SNL host. Did he have those break-out YouTube moments? Nope – that's because he was a total team player, through and through. There was no insistence on self-promo, no star-turn diva moments – he was there to partcipate and play parts across types and support the sketch as a whole, not just his screen time. The monologue is decent but I'm going to turn what I just said on its head because it's the one place he deserved that star turn – Reynolds has been effortlessly carrying scenes since Two Guys, A Girl and a Pizza Place (once on the WE network right after Felicity – so yes, I watched it) – he would have been equal to anything they threw at him, and happy to do it. A musical number, a battling-Wolverine bit, or at least using the women in the cast to underscore his romantic lead status (a Definitely, Maybe nod?) – amping up the energy would have made the monologue pop more. Still, perfectly decent.
70's Family Feud with the Osmond and Phillips Families
Yes, incest and child abuse is not a joke. Obviously. But how could SNL ingnore the Mackenzie Phillips story — especially when she put it front and center on Oprah and across the rest of the dial? This handling of it was pitch-perfect, placing the joke within a larger context that allowed so much more opportunity for jokes subtle (sets, costumes, Osmonds) and and not so much ("Things You Do With Your Father!"). Hader was at his best creepy weirdo here, too; glad they played Mackenzie down; better to focus on the Osmond-love between Reynolds and Abby Elliott. Loved Sudeikis as Richard Dawson too. Only thing missing was the kissing (for you young 'uns – host Dawson used to kiss all the ladies).
Porcelain Fountains! With Scarlett Johanssen
Nice – bringing back Scarlett Johansson to reprise a sketch she did when she hosted SNL. Happy marriages are good for SNL ratings.

I Threw It On The Ground (Digital Short – Andy Samberg)
I am sure people out there got this – I didn't, but I am not the target demo of the patented Lonely Island rap parody. I did double-take at Elijah Wood though. Random DigiShort cameos are always fun. Free Willy!

>>>NEXT: Weekend Update, Plus Madonna Taking Down Gaga By The Throat
Have a tip we should know? tips@mediaite.com