SNL Sees Biggest Ratings in Six Years With Baldwin as Host, Beats Trump's Hosting Appearance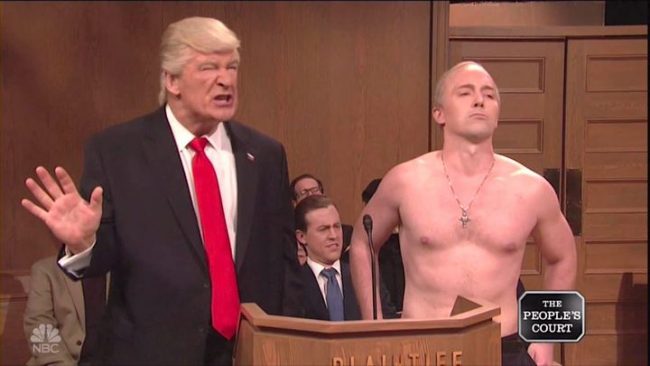 Well, the numbers are in, and Saturday Night Live enjoyed its biggest night in years, even beating out Donald Trump's much-hyped hosting gig in November 2015.
With Alec Baldwin hosting for a record-breaking 17th time, SNL pulled in a 7.2 overnight rating, which is the best the program has seen since 2011. In comparison, Trump's broadcast nabbed a 6.6 rating.
Heading into this past weekend's broadcast, there was a lot of anticipation over potential skits the show might run, especially considering that Baldwin is also SNL's resident Trump impersonator. The week before, they debuted Melissa McCarthy's hilarious Sean Spicer impression, so many likely tuned in to see if they would devote another skit to Spicer. (Viewers didn't have to wait long as the cold open featured McCarthy.) Also, it's also possible some folks tuned in with the hopes that Rosie O'Donnell would make an appearance as Steve Bannon.
Baldwin put on his Trump wig for one segment where the president takes the three judges of the Ninth Circuit Court of Appeals to 'The People's Court,' referencing POTUS tweeting out that he'd see them in court for not overturning the stay on his travel ban. SNL also took aim at White House counselor Kellyanne Conway in a provocative and potentially controversial skit that portrayed Conway as a Fatal Attraction-esque stalker.
Trump has not been a fan of the show in recent months, constantly taking to Twitter to slam it as unfunny and biased while ripping Baldwin's performance. Meanwhile, SNL is enjoying its highest rated season in 22 years.
[image via screengrab]
——
Follow Justin Baragona on Twitter: @justinbaragona
Have a tip we should know? tips@mediaite.com