SNL's Al Sharpton Bumbles His Way Through Coverage Of Obama's 'Uhrs' Scandal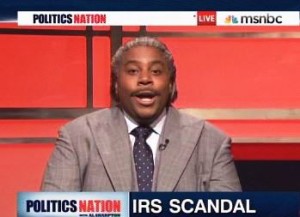 Saturday Night Live's season finale cold open took on MSNBC's Al Sharpton attempting to cover the ongoing scandal involving the IRS intentionally targeting tea party organizations for additional scrutiny. As the show's version of Sharpton is wont to do, the MSNBC host bumbled and stumbled through a disorganized segment full of incorrect pronunciations, baffling chart graphs, and non-sequitur folksy anecdotes.

Kenan Thompson's "Sharpton" began the segment by explaining that Republicans are mad because the tea party has been targeted by some organization pronounced "Uhrs." Corrected by the control room, Sharpton proceeded on to interview Washington Post columnist Dana Milbank, portrayed by Jason Sudeikis.
"Dana, what is this about?" Sharpton asked.
"Well, once again, Republicans are taking a real problem and attaching unreal political motives to it," Milbank explained, but was interrupted by Sharpton, who clarified: "Okay, but I wanna know. what is this about? You're a man but your name is Dana."
Unmoved by Milbank's explanation that many men are named Dana, Sharpton resolved to call the commentator "Dan A." He then played a clip of what was introduced as Senator Mitch McConnell explaining the IRS mess to Jimmy Fallon, but instead it was Matthew McConaughey talking to Fallon about eating sushi with his wife.
When Sharpton interviewed a tea party member via satellite from Denver, instead of asking questions about the IRS ordeal, the MSNBC host expressed bewilderment at the man's colonial costume, taking it seriously by asking whether the man makes horseshoes and buys handmade crafts.
To conclude the segment, Sharpton gave one of his "blueberry pie"-style anecdotes: "Like my grandmother always said, 'If there is a frog in the bucket, somebody's having waffles on Sunday."
Watch below, via NBC:
— —
>> Follow Andrew Kirell (@AndrewKirell) on Twitter
Have a tip we should know? tips@mediaite.com