SNL's Cut Cold Open Savages Republicans For Their Excessive Praise Of Israel At Chuck Hagel Hearings
SNL's
Cut Cold Open Savages GOP For Their Excessive Praise Of Israel At Hagel Hearing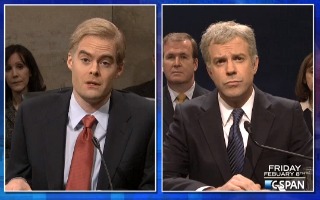 America got a glimpse at what was supposed to be last night's cold open to Saturday Night Live when NBC released a dress rehearsal on their website. The sketch comedy program originally planned to skewer the Republican Party's congressional representatives for displaying an excessive amount of love of and concern for the state of Israel during last week's confirmation hearings for Defense Secretary nominee and former Sen. Chuck Hagel (R-NE).

RELATED: Fox Panel Tears Into Hagel: Why Does Obama Want Him 'In The Pentagon In The First Place?'
The focus of the sketch centered on comments made by Hagel in which he made it clear that the U.S. and Israel's national interests to not always perfectly align. Actor Bill Hader, playing Sen. Lindsey Graham (R-SC), expressed total incredulity about the notion that Israel and the U.S. do not consistently share the same policy goals.
Actor Kenan Thompson, who played newly-appointed Sen. Tim Scott (R-SC), continued to lampoon the GOP's support for Israel. "As an African-American Republican from South Carolina, love of Israel is in my blood," Thompson said.
His effusive praise of Israel appeared to confuse Jason Sudeikis in his role as Hagel. "When you criticize Israel, you're walking on the fighting side of me," Thompson concluded.
Fred Armisen, playing Sen. Bernie Sanders (I-VT), chimed in. "As everyone in this room knows, I am a Jew," Armisen said to the mock cries of shock from the audience. "An old Jew, and like all old Jews I love the state of Israel. But what my Republican colleagues are doing here is pure grandstanding."
It did not take long for the Republicans on the Senate panel to erupt into a competition as they attempted to one-up each other with excessive statements of support for the state of Israel.
Watch the dress rehearsal sketch below via NBC:
> >Follow Noah Rothman (@NoahCRothman) on Twitter
Have a tip we should know? tips@mediaite.com