SNL's Fox & Friends Tears Into Obama's SOTU Speech And Interviews Fired Up 'Ted Nugent'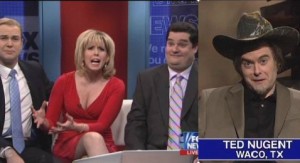 The hosts of Fox & Friends were horrified by President Obama's "assault on our values" during the State of the Union Address – that is, the hosts of SNL's parody of Fox & Friends.
The Fox & Friends hosts noticed that, when you played Obama's speech backwards, he admitted to being a black panther and announce his intention to listen to hip hop and smoke marijuana. Unfortunately, that tip off came from a prankster. The hosts only realized they were being pranked too late to spare them the embarrassment of broadcasting the tip.
Later, they invited Ted Nugent, played by Bill Hader, on the program. Nugent was asked about his dislike for the president and being close to him during the State of the Union. He said he objected to gun control, saying that the nation really needs to take guns away from crazy people. "It's not hard to tell who is crazy," Nugent said. "Just look at their eyes. The white part and the swirly part."
Finally, the hosts turned to the scandal in Europe in which customers at fast food chains were fed horse meat. The hosts asked a guest expert if eating horse meat would make you run faster or "poop out glue."
"For the folks at home, honestly, the safest thing to do is just never, ever leave the United States," said Steve Doocy, played Taran Killian.
"If you want to travel the world, just go to the International House of Pancakes," said Brian Kilmeade as portrayed by Brian Moynihan. "Don't forget your passport," he said producing a pancake from his jacket pocket.
As always, the episode of Fox & Friends ended with a sprawling list of corrections.
Watch the sketch below via NBC:
Have a tip we should know? tips@mediaite.com