SNL's Fred Armisen And Jason Sudeikis Talk Playing Obama & Romney On Meet The Press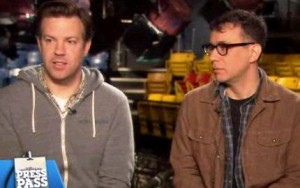 While we're not going to get the two presidential contenders in the same room until the fall, David Gregory gave us the next best thing: the men who pretend to be them on a sketch comedy show. Jason Sudeikis and Fred Armisen, two of the most popular cast members on this season of Saturday Night Live, talked about what it's like playing the two people vying to be the most powerful man in the world.
RELATED: Obama Counts Down Everyone More Powerful Than Him On SNL
Sudeikis said that while politics can be a comedy goldmine sometimes and it gives them a chance to bring a voice to the frustrations of the masses, it can be a little repetitive given the cyclical nature of politics these days. He joked that portraying Romney would be more interesting if he was involved in something scandalous as opposed to just being flat-out "boring." His flip-flopping, however, has been helpful for the comedy.
Armisen, on the other hand, gets to have fun playing the President of the United States. He admits that he's a fan of Obama's, but he still enjoys wringing comedy from the president's attempts to remind everyone of how inspired they felt when he ran the first time around to capture the same wonder. Gregory noted that Armisen seems to capture a very distinct vocal range when he imitates the president, and Armisen acknowledged that he makes sure to have the voice nailed down before he goes on to speak like Obama.
Sudeikis remarked that in imitating Romney, he uses something akin to an old "radio voice" or, as he joked, a "black comedian doing a white guy voice." He brought up his Biden impression as being similar to an old, fun dad who talks just a little too loudly.
Gregory observed that when people watch SNL, they expect to see the attributes of politicians that just stick out to them, "positively or negatively." Both Armisen and Sudeikis explained that while the material on the show is shaped based on their perceptions of the news, they're not sitting around with some big agenda trying to figure out how to frame issues, though Sudeikis acknowledged that the staff does lean liberal.
RELATED: SNL's Mitt Romney Campaigns On A Pro-Everything Platform
Gregory then asked both men to make the case for each candidate to win in November… in character. The short speeches basically evolved into some awkward, hilarious banter between the two candidates, with Romney going off a list of every single type of person in the country (from grandmothers to granddaughters) and Obama taking a giant applause break.
Watch the video below, courtesy of NBC:
Have a tip we should know? tips@mediaite.com
Josh Feldman - Senior Editor