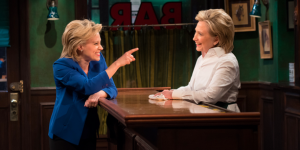 For the long months that remain ahead for Secretary Hillary Clinton and her campaign staff, they may want to bottle up the five minute window when Clinton appeared in a sketch for this weekend's Saturday Night Live. When the lights of Studio 8H were at their brightest, Clinton was simply at her best and yes, her most likable.
I haven't always been kind to Clinton's on-camera persona, and have long seen her as robotic and lacking in that 'beer drinkability' charm. But live on-air Saturday night, Clinton was great. She has used SNL in the past as a way of having fun with her most criticized qualities, like during an appearance in the 2008 campaign. Her impressionist Amy Poehler busted out an SNLified version of the Clinton chuckle to which Clinton responded, "Do I really laugh like that?".
On Saturday night however, I saw a different strategy emerge from Clinton in regards to the jokes that were written; they weren't only self-deprecating, they were preemptive. When Clinton (who played a bartender named Val opposite Kate McKinnon's impression) opened with, "I'm just an ordinary citizen who thinks the Keystone Pipeline will destroy our environment," the script wasted no time addressing the anti-Hillary talking points that she will face in the first Democratic debate.
McKinnon as Hillary continues, "I agree with you there. It did take me a long time to decide that but I am against [the Keystone Pipeline]".
This opening joke reminded me exactly what Hillary's biggest challenge is this time around; it's not her laugh or personality like it was in 2008 (after all, it's been decided she's "likable enough"). Instead, it's questions circling Clinton's policies, electorate pandering, and administrative faux pas that will be her hardest roadblocks. After all, if it's on SNL, it's a reflection of the temperature of everyday Americans. 
The first Democratic debate is still over a week away, the night when the casual politics viewer will first hear the criticisms lobbed at the candidates. The issue of the Keystone Pipeline and her reluctance to state a delineated side until two weeks ago will certainly dog Clinton in the debate. The sketch brought it to the forefront and let Clinton get ahead of it on her own terms, beginning the narrative she must continue defending.
In doing so however, the Clinton campaign snuck in a freebie to her Democratic opponents in the form of her debate comeback to that criticism. Val responds, "You know, nothing wrong with taking your time. What's important is getting it right". Watch for these exact words to be repeated next Tuesday night in Las Vegas.
Then the scene turned to address what will perhaps be the strongest anti-Clinton talking point next week: the issue of gay marriage. Despite being an advocate (her campaign "H" took the way of the rainbow within minutes of the SCOTUS decision in June), her history does not prove so supportive. In the sketch, the bartender notes how great it is that Hillary is a gay marriage supporter.
At that moment, McKinnon — the first openly lesbian cast member in the history of SNL — seems to look straight at Clinton, through the fourth wall, and shoots back, "Could've been sooner".
It is as if the writers at SNL took great privilege of identifying all of the potential knocks at Hillary Clinton she's likely to face, then comedically include them all. Gay marriage? Check. Her husband Bill? Check. The not-so-subtle decision to run her campaign headquarters in Brooklyn and edge millennial support? Check.
Insert obligatory Trump impression here, demonstrating that even in the fortress of 30 Rock, the Trump Train continues to dominate all airwaves. Look for him to say this week how Hillary mentioned his name in an SNL sketch, and the guy will figure out how to use it to his advantage.
Notably absent from Clinton's big comedic performance was any reference to her email scandal, something that she taken the time to jab at in the past. Clinton is set to testify in front of a Benghazi committee in two weeks, and pressure regarding her email server continues to mount. If you close your eyes, you can almost see the strict confidential notice sent from the Clinton campaign to NBC PR, Lorne Michaels, Colin Jost and the SNL writers: there shall be no jokes, references, or bits regarding Secretary Clinton's ongoing email investigation.
It's even funnier to imagine what another conversation must have looked like within the campaign inner sanctums: Should we have her sing? We should definitely have her sing. Wait, can she sing?
Then: the faintest touch of magic on live TV maybe strong enough to salvage Clinton's struggling campaign. She joined McKinnon for a rendition of Bill Withers' "Lean on Me" and suddenly, beautifully: she flubbed the words.
And without expectation or care, our former Secretary of State laughed her ass off because she broke on Saturday Night Live.
Even after her stage right exit, Clinton managed to take one more joke hurled her way; McKinnon, searching for signs that the exchange with the bartender was real, reaches to find "a hard, tan business shoe" left behind. Boring fashion sense? Check.
It's the classic straight-person-crazy-person motif, the same style of sketch you'll see every politician act in: make the guest as sane and normally responsive as possible, leaving the zaniness to the cast members in the scene. McKinnon unsurprisingly killed, allowing for Clinton to be herself and leave the audience with the glimpse of humor they were hoping to see.
It was the perfect appearance for Hillary Clinton to do, and she got a ton more stage time and lines in the sketch than then-Senator Barack Obama did when he visited the show in 2007. She is not winning the charisma vote so far in this nomination race, but this appearance can only help. It was everything the campaign needed it to be, and showed brief signs of realness that Clinton must tap into.
Monday's Outnumbered and The Five will over examine it, call it disingenuous, and not very funny. But the Clinton campaign should chalk up this appearance on SNL as a win, something they could likely use in their corner. This season of SNL will have its hands full developing sketch premises fit for a revolving door of presidential candidates, but Clinton certainly set the bar in the premiere episode. Maybe it's enough to turn the tide in her favor.
[image via screengrab]
—
>> Follow J.D. Durkin (@MediaiteJD) on Twitter
Have a tip we should know? tips@mediaite.com