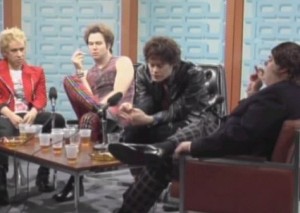 The writers for Saturday Night Live paid tribute to late British Prime Minister Margaret Thatcher, who passed away this week, with a mock rockumentary about a punk-rocker named Ian Rubbish, who hated pretty much everyone and everything, but loved The Iron Lady. It seems like a bit of an offbeat premise, unless you accept the fact that Saturday Night Live writers probably juice their flagging creative energy by throwing darts at the Mediaite homepage.
According to the documentary series "The History of Punk," Ian Rubbish, frontman for fictional punk group The Bizzarros, was "angry at the police," and "hated the shopkeeper, the bus driver. He hated the queen," but when Margaret Thatcher was elected Prime Minister in 1979, sang lyrics to her like "Hey, Maggie Thatcher, you're all right, thanks to you, I sleep at night."
The taped sketch featured convincing rockumentary production values and authentic-looking archival footage, and a few shots at Thatcher's legacy, singing that "Sweet Iron Lady, I want to kiss your iron fist. You crushed the Argentinians, you killed a few, they won't be missed let's go for a drive when i'm with you i feel alive when we're done we can privatize our nations industry
but the randomness of the premise is what really sold the sketch. Maybe it wasn't that random, after all. The show's punk-rocker is modeled after Sex Pistols and PIL frontman Johnny Rotten, who made an appearance on our front page this week alongside posts about the late Iron Lady. Glad we could help.
Here's the video, from SNL:
Have a tip we should know? tips@mediaite.com