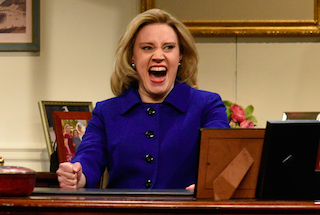 With her brutal impression of Hillary Clinton that debuted earlier this year on Saturday Night Live, Kate McKinnon may end up doing the candidate more harm than good. Think of it as the Tina Fey/Sarah Palin effect. Or the opposite of what the always lovable Will Ferrell did for George W. Bush leading up to the 2000 election.
But in a roundtable discussion for The Hollywood Reporter featuring some of the biggest female names in TV comedy, McKinnon confirmed that she is "rooting for her, obviously." And it is not just so she can play the president on SNL for the next decade.
"It's a combination of the writers' take on her but also this contrast between a woman so driven and hardened by her experiences — She needs this! The country needs this! — and this sweetie granny from the Midwest. The juxtaposition," McKinnon said of the unique portrayal. "I'd be so nervous to meet her. I find her so resplendent!" she added.
Clinton got similar love for the other women on the panel, including Amy Schumer ("Hillary is a laugher. The coolest.") and Lena Dunham ("I love that people are like, 'She's not qualified to be president.' Then everybody else they bring in, they're like, 'He managed a Ben & Jerry's for a while.'").
Among other topics, the group also speculated about why there are so few women in late night. "Because we get our periods at night," Schumer joked.
Dunham took a more serious approach:
"The idea of risk-taking is terrifying. I love Stephen Colbert, he's a genius, but CBS [couldn't] take the David Letterman slot and hire somebody who represented even an ounce of diversity? Also, when they got James Corden — another guy I love — there was this joke, 'We've run out of white men here, we have to import them from England.' There is no shortage of established women who've been on the comedy circuit for years. It bums me out that someone like Kathy Griffin was relegated to Fashion Police… Les Moonves is asleep in a cave somewhere far away. I don't know!"
"I think people hate women," Schumer added. "I don't think they want to hear a woman talk for too long. A lot of people project their mom yelling at them. My [career] has been about tricking people into listening. I'm not saying all men hate women, but there's such an aggression."
Read the full piece at hollywoodreporter.com.
Watch McKinnon's latest appearance as Clinton in the SNL season finale below, via NBC:
[Photo via screengrab]
— —
>> Follow Matt Wilstein (@TheMattWilstein) on Twitter
Have a tip we should know? tips@mediaite.com