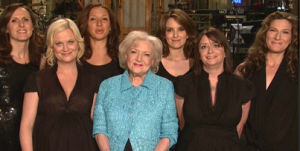 Tonight is Saturday Night Live's second-last show of its 35th season, and also, hands down, its biggest: Newly-recelebrated old-school superstar Betty White is hosting what has become the Mother's Day show featuring SNL's history of funny, funny ladies, which means the return of some top alumnae like Amy Poehler, Maya Rudolph, Rachel Dratch, Ana Gasteyer, and Molly Shannon. And of course Tina Fey. The "women aren't funny" meme is pretty dead by now, killed by the relentless dominance of Fey in pretty much every comedic endeavor she tries, plus people like Poehler, and Sarah Silverman, and Chelsea Handler, and Jenna Fischer, and Wanda Sykes, and Kristen Wiig, etc. etc. etc. — but the wildly-unequal ratio in the biz still lives on.
Maybe this will help move the needle. I tried to get in to the dress rehearsal tonight (so much better than the live show, because it's got all the sketches so you get to see the ones that don't make it to air), using a key contact on the inside, who told me bluntly: "You must be high," and said those tickets were the most sought-after of the season. (I wasn't high, I just figured I'd try.) Other friends of greater influence than myself came up empty, too; meanwhile, lines at 30 Rock for standby seats have been around the building since mid-day Friday. To be fair, that's also for Jay-Z — and I gotta feeling that he'll do "Empire State of Mind" tonight and it'll be epic — but there's no denying that this show is special, and it's because of the ladies.
The "women aren't funny" meme was given special prominence three years ago by Christopher Hitchens in Vanity Fair (read it here if you wish, its awfulness holds up), but it's as insidious as all the other "women aren'ts" around (women don't have gravitas, women aren't as good at directing movies, women aren't presidential — eh, take your pick). I remember after the Hitchens piece came out, a few male writers — separately — tried to argue its truth (using themselves as examples, and to be honest I'd never realized either of them were trying to be funny). Around the same time, I remember seeing this quote by comedian Bob Odenkirk about Jenna Fischer inEntertainment Weekly: "She reminds me of Diane Keaton with that ability to be smart, have dignity, and be as funny as any guy." As funny as any guy.
Three years later, it's hard to argue any of it in the face of Fey & Co., but it still took comedy writer Nell Scovell last October to draw attention to the dearth of female writers in late-night comedy writers rooms. Part of that, as Lizz Winstead (co-creator, Daily Show) and Alison Silverman (fmr exec producer, Colbert Report) have pointed out, is the lack of female applicants (and btw, after years of talking about it, I've never applied, so, well, case in point). Note that that's the same reason given for the dearth of women getting VC money in the new media/tech startup scene. So — just as it's clear that more women need to step up and put themselves out there, I think it's also clear that the pathways to these positions heavily favor men.
Does that come from the "women aren't funny" attitudes, or vice versa? Or does it come from how different genders respond to dick jokes? (NB: A *good* dick joke will always get a laugh from both sides.) It's hard to say. But the good news is, even in the past few years, I've noticed that attitude changing. Maybe it's the combined ceiling-bashing of people like Hillary Clinton, Katie Couric, Kathryn Bigelow, Tina Fey — all the "firsts" (and why not include Barack Obama in there while we're at it, since women aren't the only minority in the minority here); — or maybe it's just the right women at the right time. But the point is, there are right women all the time — statistics say so. Hell, Betty White's been professionally funny for over six decades.
She'll be just as funny on SNL — and so will the laundry list of hilarious women accompanying her, and the funny female regulars on this season of SNL — not to mention the funny dudes and the funny writing penned by both men and women. SNL's Ladies Night will be funny because it'll have been written and performed by funny people.
Can't wait until the day when that's the only thing that matters. Tonight moves us closer to that goal.
Related:
Letterman and Me [Vanity Fair]
Nell Scovell Is My New Hero [Mediaite]
Women Aren't Funny [Vanity Fair]
Yes They Are [ETP]
Yes They Are [Vanity Fair] (eventually)
Are Men Funnier Than Women? Lizz Winstead Responds [The Daily Beast]
The 11 Funniest Ladies In 'Saturday Night Live' History [HuffPo]
If We Can Make A City Smarter, Why Can't We Do The Same With Its VC Firms? [Mediaite]
Have a tip we should know? tips@mediaite.com