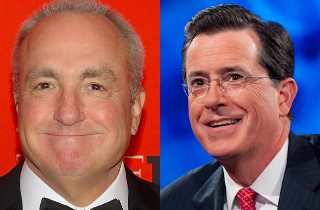 Ahead of next weekend's Saturday Night Live 40th anniversary special on NBC, The Hollywood Reporter is releasing an SNL-themed magazine edition that features a new, reflective interview with the show's creator and executive producer Lorne Michaels. In the Q&A, he talks about some of the major performers who have slipped through his fingers over the years.
Asked who he "overlooked" and then "kicked" himself over later, Michaels first mentioned Stephen Colbert and Steve Carell, who both auditioned for the show before landing correspondent gigs on The Daily Show that launched them into late night and movie stardom, respectively. Michaels also said he regrets passing on Lisa Kudrow, who ended up on NBC's Friends, and Jim Carrey, who did a stint on In Living Color before starting his blockbuster movie career.
Michaels' comments about Colbert are particularly resonant because, in just a few short months, his Tonight Show Starring Jimmy Fallon will be in direct competition with the Late Show with Stephen Colbert. In an alternate universe, in which Colbert began he career on SNL, perhaps he would have stayed in the Lorne Michaels business and never would have had the chance to create The Colbert Report, let alone succeed David Letterman.
The Hollywood Reporter's Lacey Rose also asked Michaels how he arrived at the impressive list of former cast members, hosts and musical guests for this month's anniversary special.
"The rules we used were these: Every host was invited. Every musical guest was invited. Any castmember and writer who had been here longer than a year was invited," Michaels explained. "Not everybody is going to come. The other rule we used, which was just the simplest way to go, was if people sent back their RSVP, they were in the mix of people we could write for."
He said that while the 25th anniversary show was mostly clips, this year's special will feature more live performances.
Read the full interview at hollywoodreporter.com.
And check out the star-studded covers below:
.@THR Cover: Lorne Michaels and the Epic Story of the Wild and Crazy Times of #SNL http://t.co/wVuzU18S2s @nbcsnl pic.twitter.com/aFDlfld6BU

— Hollywood Reporter (@THR) February 4, 2015
[Photos via Wikimedia Commons/Comedy Central]
— —
>> Follow Matt Wilstein (@TheMattWilstein) on Twitter
Have a tip we should know? tips@mediaite.com