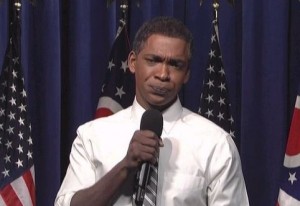 In the second installment of SNL's special Thursday night shows, Jay Pharaoh's President Obama got a chance to speak to a big crowd of supporters in Ohio, with his tradition of rolling up his sleeves "like a weatherman on Friday." Obama took questions from the crowd, and although the people in the audience complained about their current economic situation, the president spun all of them as truly American success stories.
RELATED: SNL's Weekend Update Asks 'What Are You Doing,' Obama?
Obama was awkwardly confronted by a woman who doesn't like Romney, but kind of expected more in the past four years. The president said that real change takes time, so it's possible he "might be long dead" before anything actually changes. Obama was bullish about the economy, paraphrasing The Sixth Sense to say "I see employed people."
Unfortunately for Obama, only one person at his rally had a real working job: a Burger King manager who used to be an executive at Bank of America. Obama tried to spin it as a "success story," but was soon faced with a man who chases raccoons out of foreclosed homes and a meth cook who Obama was pleased to see was "fired up."
After mostly silence from the crowd, Obama salvaged the event by asking if they thought Mitt Romney was worse. And if "the other guy sucks more" isn't a great way to rally up a crowd, what is?
Watch the sketch below, courtesy of NBC:
—–
Follow Josh Feldman on Twitter: @feldmaniac
Have a tip we should know? [email protected]
Josh Feldman - Senior Editor