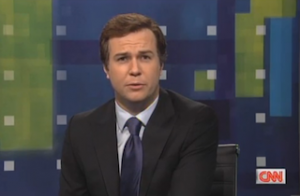 Saturday Night Live's first show of 2013 opened with Piers Morgan, "or as you know me, the British Mario Lopez" and an all-star slate of guests, covering all the biggest scandals of the week.
Morgan introduced the recently honest Lance Armstrong as "the most despicable, vile human being ever to set foot on planet earth. And I'm so happy to have him." Jason Sudeikis' Armstrong responded, "I'm excited to be here to apologize to all the viewers out there who couldn't find the OWN network on their televisions."
Asked about his "sophisticated" doping regimen, Armstrong said, "Is it that sophisticated? I don't know. Is it cheating? Maybe. Am I sorry I did it? Yes… ish. P.S. no."
Next up, Morgan introduced a man "on the other end of a vicious lie," Notre Dame linebacker Manti Te'o. Bobby Moynihan's Te'o still seemed a bit confused about his fake girlfriend Lennay Kekua. "A couple months ago, she called me up on the phone and was like 'Hey, I have some bad news, I'm dead.' And I said 'Oh no! Do you need a ride to the funeral?'"
Finally, Kate McKinnon revived her excellent Jodie Foster impression to help explain the actress' confusing Golden Globes speech. It seemed as though Foster might make the big announcement she threatened at the award show. "I am ga… ame for anything." And "I'm officially a Les… lie Nielsen fan." She ended, "That is such a giant weight off of my lesbian chest."
Before saying "Live from New York it's Saturday night!," Morgan teased a "hard-hitting debate on gun control" with Liam from One Direction.
To top it all off, during the sketch the real Piers Morgan tweeted the following question to the cast member who was playing him, Taran Killam:
Do I seriously sound this annoying? #snl @tarankillam

— Piers Morgan (@piersmorgan) January 20, 2013
Watch video below, via NBC:

—
>> Follow Matt Wilstein (@TheMattWilstein) on Twitter
Have a tip we should know? tips@mediaite.com