SNL's Seth Meyers Rips Into Trump At The White House Correspondents' Dinner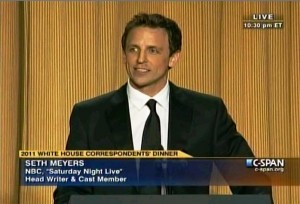 Seth Meyers, taking the podium after Obama, was in his element. He took a few moments to acknowledge how upset he was that the birth certificate issue had been resolved right before the dinner, because now all of his birther material was useless. "Is Joe Biden still the vice president?" he asked. "Because if not I'm down to, like, 'thank you' and 'God bless America'."
Meyers warmed up by taking some easy shots at CSPAN, the network best known for "wide shots of empty chairs," and at the organizers of the dinner for booking it in a Hilton. While these jokes went over very well with the room, they felt a bit stale. Things picked up when he thanked the White House Correspondents' Association for having him, but also noting that Senator John Kyl had warned him that 90% of what they do is abortions.
When Meyers began taking shots at individual networks, the room cooled off. When he said that he heard NPR's afterparty would be boring, "because how exciting could a party that's being held in accordance with sharia law be," there were groans. As Stephen Colbert's epic White House Correspondents' Dinner address showed us, when the keynote speaker bombs, it's a sign of a successful speech. As though adhering to some secret law that dictates he must be mentioned in all media, Brian Williams came up! Meyers said that Williams decided to show up because the event featured the thing he values the most: cameras. The White House Correspondents' Association should have panned, Oscars-style, to all the media personalities being name-checked. I felt like I was missing out on a ton of amazing reaction shots.
Myers also addressed Donald Trump's candidacy, saying that he was surprised to learn Trump would run as a Republican, "because [he] assumed he was running as a joke." There was no tight smile from Trump this time. He also took a shot at the mogul's toupee, which was brave if cringeworthy and not super original. Very funny, however, was Meyers' line about Trump's claim that he has a great relationship with "the blacks." Quoth Meyers: "Unless 'the Blacks' are a family of white people, I think he's mistaken." By now the cameramen had received my telepathic memo and were on point, cutting to a shot of Obama giggling uncontrollably.
Meyers' speech was crowd-pleasing, and he also thanked the journalists in the room for making his job possible, but he managed to make a few solid digs that were surprising in both their wit and cruelty. The question I was left with was why his jokes can't be this clever every week on "Weekend Update"? He is the head writer. Overall he managed to work the room without selling out completely, though I would bet $3 million there was no applause from The Donald's table.
Watch Seth Myers' speech here via C-SPAN:
Have a tip we should know? tips@mediaite.com