Snooki Gets $32,000 To Speak At A College, Nobel Winner Toni Morrison Gets $30,000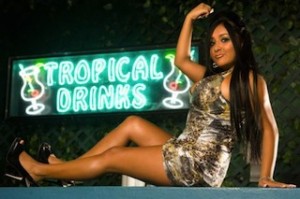 This is hurting me to type, it really is. Writing a post that, in any way, seems negative about Rutgers University just goes against every fiber in my being. However, this truly depressing "sign of the times" type story is too painful to pass up. Just this past week, Nicole "Snooki" Polizzi spoke at my beloved alma mater. In a couple months, Nobel-winning, Beloved author Toni Morrison will be giving the commencement address. Guess who's getting paid more…
Yeah, The Scoop has the sad, sad details:
"Money for Snooki's appearance came from the mandatory student activity fee.
Interesting to note, the reality TV star's $32,000 fee is $2,000 more than Rutgers' commencement speaker, Nobel-winning novelist Toni Morrison, will get when she addresses graduates this spring.
Snooki's parting advice to students: 'Study hard, but party harder.'
I'm thinking Morrison might have a different message come May."
Look, I know we Rutgers students are sometimes susceptible to going to see terrible, terrible crap (while there, I once starred in a production of Hair that sold out a couple nights), but come on! Giving $32,000 to a reality TV star just to talk about "hair styling" tips is the kind of action that leads other reality TV stars to think $134,000 is an untenable salary. We need to stop encouraging these people! If not, they'll just keep "writing" novels, "singing" on albums, and "entertaining" at reunion specials.
Of course, maybe I'm just irritated that her lesson was "party harder." Those was totally my parting words to Rutgers. Seriously, you can read all about it in the last editorial I wrote for the good ol' Rutgers Review.*
*If you actually go to that link (which I wouldn't advise), please know that the extreme douchiness of that article was on purpose and did not represent what I was actually like at the time. Although, I was douchey enough to accompany it with a drawing of me flipping off the reader. Ah, college…
Have a tip we should know? tips@mediaite.com