Snubbed! All Reporters from the Major Networks Ignored at President's Press Conference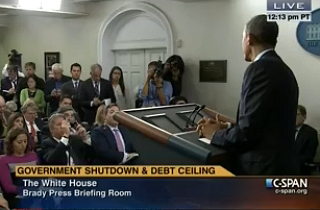 ABC, CBS, NBC, Fox, CNN…guess what?
You no longer matter to this President.
During a rare Presidential press conference—which was more of a condescending, finger-pointing, rambling lecture on economics swimming in scare tactics than anything else—Mr. Obama took questions from the AP's Julie Pace, Julianna Goldman of Bloomberg, Sam Stein of the Huffington Post, Roberta Rampton of Reuters, Ari Shapiro of NPR, Mark Landler of the New York Times, Richard McGregor of the Financial Times, Steve Dennis of Roll Call, Mark Knoller of CBS (Radio), and an unidentified female reporter for the final question. Hyperbole was the primary theme ("You don't hold people hostage and engage in ransom taking") while a tough question couldn't be found.
Guess that whole issue around his healthcare.gov site and health care exchanges within the Affordable Care Act failing in spectacular fashion just wasn't compelling enough to have a conversation about. Questions like: "How many have signed up for Obamacare, Mr. President?" and "Why are there still all of these glitches three years (to plan) and one week (after launch) later?"
To answer the first question, there aren't any numbers available, according to the White House earlier this week. Except, of course, there are. It's simple logistical programming in the IT world.
To answer the second, the site keeps crashing because so many Americans are running to the site, even NASA's servers couldn't handle the demand.
Except, also of course, that's not the case at all… Because if you think that this Administration—which takes credit for everything including Peyton Manning's start this season—wouldn't release the number if it were seen as remotely favorable, you're simply another blind ideolog.
So back to the original point: Why so few questions from the most prominent reporters in the room? Jonathan Karl of ABC, Chuck Todd of NBC, Major Garrett of CBS, Ed Henry of Fox, Jim Acosta of CNN: All reach the largest audiences in the room. All not called upon. All ignored. Because, you know, they might actually ask a difficult question that doesn't make the President look like he's kicking back at Happy Hour talking to friends about the Bulls' chances this season.
The President mentioned he was "going down his list" during this press conference in terms of reporters chosen. Just a theory, but blowing off all the major news networks appears to be a premeditated decision, all in an effort to teach them a lesson. Perhaps it's because all have raised the point around blame being shared on the partial government shutdown. Perhaps it's because a majority of Americans have the audacity to blame the President for said shutdown (a new CNN poll says 53 percent hold Mr. Obama responsible, 57 percent blame Democrats and 63 percent say Republicans are guilty).
Only a 10-point difference? The President didn't count on that small of a gap.
He now owns a 41 percent approval rating, according to Gallup polling ending last week. And after watching this press conference, by far the worst of his Presidency where he appeared partisan, small, sanctimonious and childish, expect that number to continue to fall.
One thing not to expect?
Tough questions from the nation's more respected reporters.
Not because they won't ask them…
Because they won't even get the opportunity.
— —
>> Follow Joe Concha (@ConchSports) on Twitter
Have a tip we should know? [email protected]