So Much for the 'Fix': Capitol Hill Staffers Warned Not to Trust Info from Obamacare Site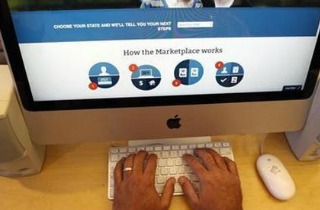 Cable news viewers have been treated Wednesday to countless hours of happy talk about a spike in Affordable Care Act enrollments, with a broad array of reporters displaying unwarranted credulity about just how reliable those figures are. Wednesday was also marked by Health and Human Services Sec. Kathleen Sebelius doing her best Chip Diller impression during testimony before a House hearing on the newfound capability of the ACA insurance exchanges. Given this PR blitz, the average American could be forgiven for thinking that the ACA really has turned a corner.

The average American would be wrong. At least, that is what the people who matter – Capitol Hill staffers and advisors to members of Congress – are being told. With prominent media outlets repeatedly assuring the public that the ACA rollout is "improving" dramatically, Hill staffers are being warned that the data they receive when they sign up for the ACA online is not reliable.
"Do not rely on your 'My Account' page or other correspondence from DCHL," reads an email from Washington's "DC Health Link" obtained by The Hill. Staffers are being told to confirm their enrollments in person – an admission that confirms what critics have been saying for weeks, that the backend of the insurance exchange website is not functioning and the front-end of the site is merely a Potemkin façade.
RELATED: Sebelius Frustrates GOP Rep. by Insisting Obamacare Enrollment Hub 'Has Worked Beautifully'
The press took it on the chin in October when it became clear that the ACA site was a disaster. The political media, as an institution, engaged in an ostensibly corrective round of self-criticism, asking why they had been so gullible and how that embarrassing episode could be avoided in the future. To account for the error, the political press took on hard look at the White House's claims regarding the ACA… for a few weeks.
Today, however, blissful naiveté has again begun to characterize coverage of the White House's pronouncements about the capability and readiness of the ACA's insurance exchanges. When the next deadline passes and those assurances are shown to have been distortions designed by the administration to shield them from immediate criticism, will a round of mea culpas be enough for the public to forgive this repeated and inexcusable judgment failure on the part of the press?
Let's hope not.
[Photo via AP]
— —
> >Follow Noah Rothman (@NoahCRothman) on Twitter
This is an opinion piece. The views expressed in this article are those of just the author.