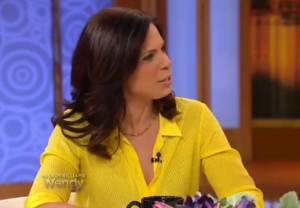 Amid the ongoing shuffle at CNN, Starting Point anchor Soledad O'Brien's future at the network remains unclear, following the announcement of a new morning show. A day after the New York Post reported that she might be parting ways with CNN, O'Brien was asked about the rumors when she paid a visit to Wendy Williams' show.
Before the crew forged ahead with their planned pop culture topics, Williams had to get the question out of the way. "If you don't mind," she asked, "because it's everywhere, are you leaving CNN?"
"You know, we're talking about my role," O'Brien replied. "As you know, it's been reported a lot that the morning show is going a different direction. So, we're talking about what ways I can contribute to CNN. Doing stuff that I like to do, which is hard-hitting journalism."
"When you say different direction, are they going to do it in the evening?" Billboard editor Joe Levy, who was also on the panel, chimed in.
"That would be a schedule I would like, actually," O'Brien said. "But you know, I like doing documentaries, I like doing hard-hitting — grilling people."
Yesterday's Page Six report cited sources who said "O'Brien has indicated she is ready to leave after she was initially promised a plum prime-time slot, but that role has so far failed to materialize."
Recently, CNN announced that new hire Chris Cuomo, formerly of ABC News, will be the co-anchor of a new morning show (possibly alongside current primetime anchor Erin Burnett).
The clip below, via Fox:

Have a tip we should know? tips@mediaite.com