Soledad O'Brien And Jeffrey Toobin Study Trayvon Martin 911 Tapes, See Trouble For Zimmerman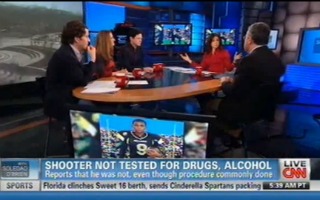 On Monday, CNN Starting Point host Soledad O'Brien delved into the death of Trayvon Martin, the unarmed teen who had been shot by George Zimmerman, a neighborhood watch captain, while walking back from a convenience store.
Martin's family, O'Brien reported, is now pressing the Justice Department to become involved following the release of seven 911 calls made by neighbors the night Martin was killed — including one made by Zimmerman himself, a snippet of which O'Brien played for viewers.
CNN senior analyst Jeffrey Toobin stopped by the show to weigh in further on the tapes and Martin's case.
RELATED: Dan Abrams On Trayvon Martin Shooting: 'Let's Separate The Facts From The Law'
"Well, it suggests that it was not self-defense," Toobin said of Zimmerman's call, which shows he'd been told to stop pursuing the teen. "It suggests that Zimmerman was somehow the aggressor here. Now, there are a lot of other pieces of evidence in the case, and it makes sense for the police to evaluate all of them, but certainly this tape alone is very damaging for Zimmerman because it suggests that he was the one pursuing Trayvon Martin, not that Martin was somehow the aggressor in the confrontation."
O'Brien then played a call made by a neighbor on which listeners can hear screaming and a gunshot. "Many disputes or questions about who was the one who was screaming," said O'Brien, "although, as people pointed out, the minute a shot is fired, the screaming ceases."
"Right, said Toobin, "which would suggest it was Trayvon Martin screaming and not Zimmerman." Toobin later noted that, as a member of the community's neighborhood watch team, Zimmerman would not have been given any special rights or authority regarding gun usage.
He also noted Florida's "Stand Your Ground" law, which he explained as essentially saying that "if you're hit with a fist, you can reply with a gun."
Have a look at the report, via CNN:
Have a tip we should know? tips@mediaite.com