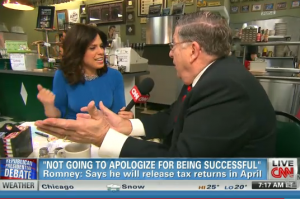 During Friday morning's Starting Point, Soledad O'Brien sat down with former governor John Sununu — a Romney supporter — and tried to get some more information on why Romney is so reluctant to release his tax returns. She played a clip of Romney being booed at Thursday night's debate before turning to Sununu for comment.
"Why has this been such a struggle for him to get his message out about the taxes?" O'Brien asked. "Because it's been stumbles, it's been booing — that was another low point in the debate last night."
"Well look, Ron Paul last night said he's not going to release his taxes," Sununu replied. "Santorum said he's not going to release his taxes."
"No, that's not what they said," O'Brien interrupted, explaining that Rick Santorum said his taxes were on his computer at home, and Ron Paul was ashamed to release taxes showing how little money he actually made.
"But the net outcome of those two cute comments," Sununu retorted, "are that Ron Paul is not going to release his taxes, Santorum's not going to release his taxes, Gingrich released one year. And Mitt Romney said as soon as this year's done, he's going to release them and multiple years. You tell me which one's the most transparent of all those."
O'Brien asked why not just release them now, and Sununu explained that Romney wants to make "one single package release."
"Or you could just release them twice!" O'Brien suggested.
"It's ridiculous to release them twice," Sununu said. "So two guys can dribble stuff out for three or four months? The idea is to nominate somebody who's going to be President of the United States." Sununu went on to suggest that Newt Gingrich release the package that the ethics committee had when they fined him $300,000.
Watch a clip of the conversation below, courtesy of CNN:
Have a tip we should know? tips@mediaite.com