Soledad O'Brien And Roland Martin Blast Sen. Grassley Over 'Picking On' Ninth Circuit Court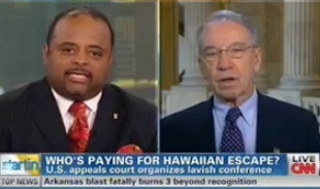 On Tuesday's Starting Point, Iowa Republican Senator Chuck Grassley came on to discuss his opposition to a judicial conference being held by the Ninth Circuit Court of Appeals in Hawaii that he claims would unnecessarily cost taxpayers hundreds of thousands of dollars. Host Soledad O'Brien and Roland Martin both took him to task over whether he was unfairly singling out Hawaii. "There are other ways of holding conference and social networking environment we're in now, it ought to be easy to do without traveling to expensive places like Maui," Grassley observed.
"But–forgive me for interrupting but the Ninth Circuit Court includes the state of Hawaii, so it's not like everybody's getting up and going to Hawaii," O'Brien observed. "And most of the circuit courts do trips, maybe not to Hawaii but they definitely do a trip. Is this picking on them because they're overwhelmingly liberal?"
RELATED: Colbert Galvanized By Sen. Grassley's 'Avant-Garde' Twitter, Summons America To Tweet Like Him
"Well, I think first of all you mentioned this big ninth circuit, a lot of us in Congress think that ought to be broken up into two circuits because it's too big and like you say probably too liberal for the rest of the region," Grassley replied. "But beyond that, that's neither here nor there on that one. Talk about the conference."
Martin pointed out Hawaii was an American state — and Grassley wouldn't be complaining if the conference was held in Iowa.
"If they have this conference in Iowa, would you be complaining? Aren't we sitting here being critical of an American state?" Martin grilled. "Don't they have the right to have conferences, judicial conferences in states like Hawaii? This is not Jamaica or Aruba. This is the United States of America."
Watch Martin and O'Brien take Sen. Grassley to task below via CNN:

Have a tip we should know? tips@mediaite.com