Soledad O'Brien Calls Out Ann Romney: She Seemed Like 'Wow I Was Able To Score Political Points'
Soledad O'Brien On Ann Romney: She Seemed Like 'Wow I Was Able To Score Political Points'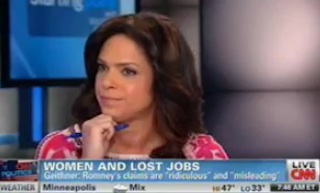 On Monday's Starting Point, Soledad O'Brien responded critically to the news that Ann Romney had called Hilary Rosen's comments an "early birthday present."
"It made it sound," said O'Brien, "like it was about strategy and not about 'what a great opportunity' to talk about my family. It was more like, 'Wow, I was able to score political points on an issue that could help my husband win.'"
"And that's what it is," Will Cain acknowledged.
RELATED: Hilary Rosen Defends Her Ann Romney Comment: 'I Love Stay At Home Moms' And 'This Is Not About Ann Romney'
Earlier in the segment, panelist Abby Huntsman Livingston was surprised by how Romney politicized Rosen's comments.
"It makes it seem like a game, like we're in it to win it, and it's a back-and-forth-game" Livingston observed. "I thought her response would have been 'it was hurtful that was said, I'll continue to stand up for stay-at-home moms.'"
O'Brien later questioned whether the Democratic Party's strategy over the "War on Women" was "just a PR thing."
"I mean, transvaginal ultrasounds," John Fugelsang jumped in.
"Wow!" O'Brien interjected. "Did you throw out that word on my morning show?"
"Yes I did!" Fugelsang replied. "Hey, I'm sorry, but they're doing it to women, it's relevant, it's political and it's moral to bring it up. When you've got Governor Scott Walker repealing the Equal Pay for Women Act on Good Friday with minimal media coverage, women in Wisconsin can't find out if they're being paid less than men for the same jobs, the Democrats have a point. But as long as they keep using a violent expression like war on women they can't complain that the GOP is trying to turn it against them."
Watch O'Brien question Ann Romney's comments below via CNN:
Have a tip we should know? tips@mediaite.com