Soledad O'Brien Calls Out, Names 'Bully' Who Emailed News Anchor About Her Weight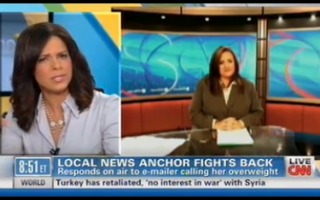 On Thursday, Starting Point host Soledad O'Brien took a look at the story of Wisconsin anchor Jennifer Livingston, the woman who became a viral hit for her response to a concern troll's email about her weight.
RELATED: Local News Anchor Smacks Down Viewer Who Called Her Overweight
O'Brien asked Livingston whether she'd had to ask her bosses if she could, essentially, "take out" the email writer on air. Livingston explained that there had been some talk prior to her going on air with her speech, adding that her news director supported her decision, particularly after the positive response Livingston received after her husband, a fellow anchor, posted the email to his Facebook page.
While Livingston had chosen not to name the man who had written the email, O'Brien went ahead and called him out.
"Oh, let's name him anyway, Jennifer," she said. "Because yesterday I was thinking, 'if I were Jennifer, I would go ahead and name him.' And, so, his name is Kenneth Krause, and he actually is standing by his email. He's gone on to say this in his statement — and I should mention first, you got a ton of support, as you mentioned, and tons of people Tweeting and supporting you, famous people. Your brother is a well-known actor, Ron Livingston, so a lot of the people he, including other actors as well, really came to your side. But here is what Kenneth Krause, the evil e-mailer, said in his statement."
"I know, I know," O'Brien added as Livingston began to laugh. "You're refined and a lady and I'm not."
She then read Krause's response, wherein he expressed hope that Livingston "take advantage" of the opportunity here and "transform" herself in front of her viewers, even offering to give her tips and advice should she want it.
Have a look, via CNN:
Have a tip we should know? tips@mediaite.com