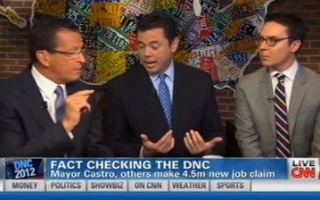 On Wednesday, Starting Point host Soledad O'Brien and her guest panel took a look at the previous night's DNC speeches and fact-checking a few points presented, particularly where job numbers are concerned.
As the discussion grew heated, Connecticut governor Dannel Malloy, a Democrat, asked Republican Rep. Jason Chaffetz to answer "Which president saved the automobile industry?" adding that "your candidate wanted the automobile industry to go bankrupt."
"And by the way," he continued, "when you talk about your desire to create jobs, where have you been on a jobs bill?"
"We have passed out of the House 32 jobs bills that are sitting in the United States Senate," Chaffetz replied. "The reality is we have passed a budget for two years in a row. The President in his plan, which is exemplified in a budget, has never had a single Democrat support it. Think about how stunning it is. The President's budget this year had 99 to nothing; his budget was defeated and the House had 414-0. The President may say he has a plan, but nobody supports it."
CNN's Dana Bash then asked about the difficult of essentially proving a negative in attempting to "prove that things really really would be worse if we didn't do these — take these steps."
"I have to go back to this. 4.5 million jobs," said Malloy. "You folks, you want-"
"I think I found the theme of the DNC tonight," joked O'Brien.
"You want to refuse or deny-" Malloy continued.
"I'm not denying anything," said O'Brien. "I'm just saying there's an asterisk next to that says '300,000 more and you'll break even.'"
"But, break even to what?" Malloy asked.
"To what the President came into office [with]," said the host.
Check it out, via CNN:
Have a tip we should know? tips@mediaite.com