Soledad O'Brien Fact-Checks Sununu's Medicare Cut Claim: We 'Hold All Our Guests Accountable'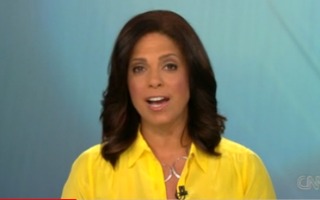 Yesterday, we showed you a Starting Point segment during which host Soledad O'Brien and guest John Sununu became embroiled in an increasingly heated argument on the topic of Medicare cuts.
RELATED: O'Brien And Sununu's Epic Shouting Match: 'Put An Obama Bumper Sticker On Your Forehead When You Do This!'
Following his appearance, O'Brien decided to conduct a fact-check his claim — a claim repeated by other Romney supporters — that President Obama's Affordable Care Act would cut over $700 billion out of Medicare. RNC chair Reince Priebus, in fact, described it as the President "stealing" from Medicare.
O'Brien cited a July 24th, 2012 Congressional Budget Office (CBO) report to Speaker Boehner, which said that, if the Affordable Care Act is repealed, "spending for Medicare would increase by an estimated $716 billion over that 2013-2022 period." That same report, she added, also says that keeping ObamaCare would not equate to a $716 billion decrease in Medicare funding — its cost would continue to rise, only not as rapidly.
Furthermore, she adds, a report from FactCheck.org says that the "law stipulates that guaranteed Medicare benefits won't be reduced and it adds some new benefits, such as improved coverage for pharmaceuticals."
Her research from the CBO letter is echoed in her discussion with Romney surrogate Tim Pawlenty this morning, where the two also debated whether the change can be described as a "cut" or a "permanent reduction."
When it comes to the facts, she tells viewers, Starting Point likes to "hold all our guests accountable," she tells viewers — and that includes Sununu.
Have a look, courtesy of CNN.com:
Have a tip we should know? tips@mediaite.com