Soledad O'Brien Grills Gingrich Campaign Chair: 'How Much Money Do You Have?'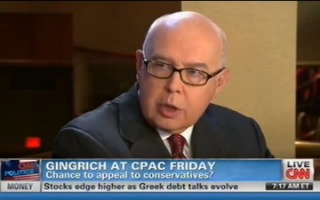 Former Pennsylvania congressman and current Gingrich campaign chairman Bob Walker joined Starting Point's Soledad O'Brien on Thursday to discuss how Newt Gingrich plans to win over voters participating in the upcoming straw poll.
Walker said that Gingrich will focus on delivering a strong conservative message that "will be positive." He also addressed a recent Wall Street Journal piece by Karl Rove that said, as O'Brien summarized it, that the race is now between Mitt Romney and Rick Santorum, and that keeping his head above water is going to be "impossible for Newt Gingrich" as he focuses on a "Southern strategy." Walker said Gingrich's focus is much farther-ranging, and includes efforts in Ohio and California as well as the South.
RELATED: Newt Gingrich Calls For SuperPAC To Correct Errors In Anti-Mitt Romney Bain Film
"Sounds expensive," said O'Brien.
"It is expensive," Walker agreed.
"How much money do you have?"
"Well, we're doing pretty well, money-wise."
"Like, a number?"
"I don't follow the numbers day-to-day," Walker responded. "We've been doing very well online, raising money online. Even yesterday, now that the inevitability is broken, the fact is that money is flowing to other candidates. We're seeing an upswing in our online contributions as well."
But negative campaigning, he later added, is essentially turning off the base, so don't expect Gingrich to resort to that again. He issued them before, Walker added, to fight against the negative ads launched against him.
Watch, via CNN:
bob walker!
Have a tip we should know? tips@mediaite.com