Soledad O'Brien Grills GOP Rep. Over Why Republicans Won't Vote For Middle-Class Tax Cuts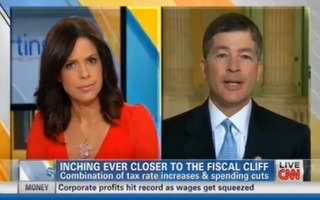 Republican Rep. Jeb Hansarling (R-TX) visited CNN's Soledad O'Brien Wednesday morning and was subjected to a grilling over the question many Republicans have faced for days: "Why don't Republicans and Democrats vote to keep the taxes lower for the middle class?"
Hansarling, who is slated to become chairman of the House Financial Services Committee, told O'Brien that it was clear the president was certainly going to get "some revenue," but that he believed the problem couldn't be solved through taxes alone. According to Hansarling, the president was not being "serious" and he questioned, "Where are his spending reductions? He hasn't put that on the table."
O'Brien again asked Hansarling why Republicans couldn't at least settle on a plan to not raise taxes for the middle class. Hansarling again avoided the question, saying "you can't tax your way out of this problem" and noting his opinion that the fiscal cliff was not a "spending-driven crisis." O'Brien disagreed, but continued asking why a deal couldn't be reached for just the middle class. Hansarling implied that if Republicans agreed to lower taxes for the middle class now, there would be no negotiations on spending cuts in the future. O'Brien shot back, "But you have no leverage in the debate!"
After being pressed, Hensarling finally said:
"What the Speaker has done is exactly what the President claimed he wanted. The Speaker has put on the table a balanced approach. …"
O'Brien responded, however, that the deal had not included tax cuts and pressed on,
"You can't be surprised that the president said no go to that, right? Within only a couple of hours — because it did not increase taxes on the wealthiest Americans, which he has consistently said.
The GOP Rep. simply stated that President Obama's electoral college numbers were "good enough to get him re-elected, but not enough to give him a mandate."
Watch the full clip below, via CNN:

—
>>
Follow Anjali Sareen (@AnjaliSareen) On Twitter
Have a tip we should know? tips@mediaite.com