Soledad O'Brien Grills GOP Senator About Cutting Food Stamps: 'You Voted For It' In 2002 and 2008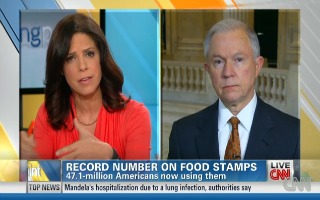 On CNN's Starting Point Tuesday morning, Soledad O'Brien grilled Republican Senator Jeff Sessions (R-AL) about his preferred cuts to the food stamp program and its impact on the poor. Noting that Sessions himself had voted for increases to the program twice, in 2002 and 2008, O'Brien questioned whether this was the best way to cut government spending: "People are saying, 'why are you trying to balance the budget on people making under $23,000 a year?'"
Regarding his prior votes, Sessions only said to O'Brien that he had "probably" voted for an agricultural bill which contained the increase in food stamp programs within it, but that he still believed it needed to be examined as part of excess government spending.
O'Brien asked Sessions several times about the fairness of cutting food stamps for poorer Americans and Sessions reinforced his view that "every part of the government needs to be available for improvement." He cited increases in the number of Americans receiving food stamps and said it was important to try to move Americans from "dependency to independence."
Senator Sessions stuck to this point despite increased pressure from O'Brien. She pointed out that cutting food stamps will affect over half his constituency and that it would dramatically affect children in the state, as well. Although Sessions said "the focus of our government program" should always be "to help people in need," he also opined the government must have at least "some change" and try cut spending wherever possible.
Despite continued pushing from O'Brien, Sessions reinforced his belief that "all programs need to be examined in this government."
Watch the clip below, via CNN:

—
>> Follow Anjali Sareen (@AnjaliSareen) On Twitter
Have a tip we should know? tips@mediaite.com