Soledad O'Brien Grills Newt Gingrich On Whether Going After Romney's Spending Is 'Hypocritical'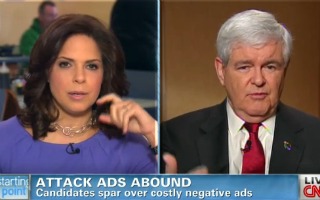 Former Speaker and current presidential hopeful Newt Gingrich spoke with CNN's Soledad O'Brien this morning on the topic of (Who else?) Mitt Romney and Super PAC ads.
"It was just about a week ago," O'Brien observed, "where you were talking about how mad you were about Mitt Romney spending $3.5 million through his super PAC. Now the number I'm hearing from you is $3.4 million from the super PAC that supports you. Isn't that hypocritical?"
RELATED: Charles Krauthammer Warns Gingrich Is 'After Vengeance': 'Captain Ahab On The Loose'
Here's Gingrich's response:
No, no. I think if you are faced with the reality and somebody decides that that's what they're going to do, if you unilaterally disarm, you might as well drop out of the race. He's decided that he would pin his entire future on shrinking his competitors rather than offering positive ideas. We came back and we offered a very clear choice here, talking about impact, for example, raising the commuter tax on folks from New Hampshire, raising $730 million in taxes as governor of Massachusetts.

So I think it's fair to draw a contrast between my record of fighting for tax cuts and the tax increases that he set up in November and in Massachusetts as governor. Similarly, I think he's gone around talking about his record in the private sector. Well, it's fair to look at that record. I don't see why looking at somebody's record is wrong.
O'Brien interrupted Gingrich to ask whether he expected to continue this "hostile conversation" as the election moves forward. "I don't know what will happen in terms of what you describe as a hostile conversation," Gingrich replied.
RELATED: The New Film From Pro-Gingrich Super PAC: Mitt Romney Is 'The Man That Destroyed Us'
Take a look at the interview, courtesy of CNN:
Have a tip we should know? tips@mediaite.com