O'Brien Grills Former SEAL About Ad Accusing Obama Of Taking Credit For Bin Laden Raid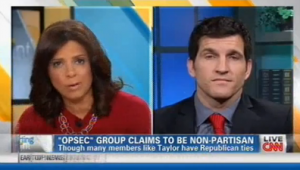 On Friday, Starting Point host Soledad O'Brien spoke with former Navy SEAL Scott Taylor of OPSEC about a recent ad the group produced, condemning President Obama for leaking information and taking unmerited credit for the raid that resulted in the death of Osama bin Laden.
"We're upset," Taylor explained, "about the unprecedented amount of leaks that have come out in the past couple of years and as well as the over-politicizing of the raid itself, absolutely."
O'Brien pointed out that the 22 minute-long ad contained various edits in order to make its point, but left out certain things the President said in his address following bin Laden's death, including thanking those who carried out the mission. "Why leave that out?" she asked.
"Because, of course, the personal credit taken overshadows that, doesn't it?" said Taylor. "So does the year anniversary commercials, so does the high level access to Hollywood producers who have given them a want to know basis rather than need to know basis, which is what's supposed to happen with classified material."
RELATED: Will Cain Defends Swiftboat-Style Ad Slamming President Obama Over Osama Bin Laden Raid
"I know you know some of the criticism and it is that, even though you claim to be nonpartisan, that this group is actually very partisan," said O'Brien. "You're a Republican, you ran for Congress in 2010 in Virginia's second congressional district. You have a rep in your group who worked for the Bush administration, you share office space with Republican groups. How do you answer that claim of being partisan when you claim that you're not?"
"I answer that claim by first saying this is an American issue. You yourself have reported extensively on leaks, so have ever other network that's out there," he responded. "I understand the criticism will say, people will say, you're a Republican. Well, I'm an American first. I'm an American before I'm a Republican."
Panelist Will Cain — who has previously defended the ad — felt that the group's partisanship or nonpartisanship is beside the point. What he is more concerned with is the fact that they've reached the conclusion that information leaks have come from the Obama administration and are being used for political gain.
Taylor responded that this same conclusion was reached by CNN itself (a statement O'Brien later disputed) and on other networks as well.
Have a look at the segment, via CNN:
Have a tip we should know? tips@mediaite.com