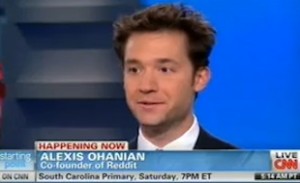 Reddit co-founder Alexis Ohanian spoke with Soledad O'Brien Wednesday morning to explain why his social bookmarking site was shutting down to protest SOPA.
"Both SOPA (Stop Online Piracy Act) and PIPA (Protect IP Act) are threats not just to the U.S. economy and not just all the jobs that this tech sector creates. If they had existed, Steve Huffman and I could have never started Reddit. It's frustrating to see legislation that was written by lobbyists and not technologists perhaps become law."
RELATED: Wikipedia Founder Jimmy Wales Trashes SOPA On OutFront
O'Brien grilled Ohanian, asking why Reddit wasn't being part of the conversation on the legislation being crafted.
"There are some people saying by going black — it's a gimmick," O'Brien explained. "Come on morning shows, talk about it. Reddit could be part of the conversation and Google could be part of the conversation — because it sounds to me like all sides think piracy is a bad thing. There's no one arguing piracy is a good thing."
"Agreed," Ohanian responded. "I just wish we had been called to the table when this legislation was written. If you look — last year, $94 million was spent lobbying to get this bill — to get these bills made. It's just so frustrating because we look at Congress and we can't see them do anything that's important. They can't solve the problems of unemployment, they can't solve the problems of the deficit. Yet as soon as a lobbyist shows up with $94 million, Democrats and Republicans line up to co-sponsor it. Something is wrong."
Watch Ohanian condemn SOPA and PIPA, and explain why Reddit shut down to protest the bills below, via CNN:

Have a tip we should know? tips@mediaite.com