Soledad O'Brien Grills Romney Adviser Over Whether Cory Booker Attack Ad Was 'Taken Out Of Context'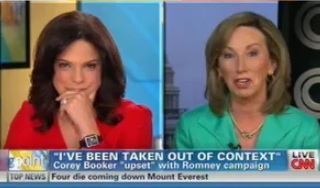 On CNN's Starting Point Tuesday morning, Soledad O'Brien spoke with Romney campaign adviser Barbara Comstock, questioning her on whether her candidate's campaign ad — "Big Bain Backfire," which used Newark mayor Cory Booker's recent comments to attack President Obama –was taken out of context.
"Cory Booker says he's furious and was taken out of context. Is he right?" O'Brien asked Comstock.
"I think Cory Booker was taken to the woodshed," Comstock responded. "I think what was more interesting last night, you saw Anderson Cooper asking David Axelrod about the hypocrisy of Barack Obama starting this whole attack on private enterprise and free enterprise on a day he was having a fundraiser with private equity."
"And that may be the case, but my question was Cory Booker right?" O'Brien interjected. "Was he creatively edited and was he taken out of context?"
RELATED: On Maddow, Cory Booker Blasts GOP For 'Manipulating' And 'Exploiting' His Meet The Press Comments
"He was edited by the White House, who took that tape hostage after he spoke the truth on Meet the Press and when they didn't what he said, they edited it down to a shorter version," Comstock contended. "Cory Booker is right. Attacks on Bain are nauseating. Attacks on free enterprise for the past 3 1/2 years killing jobs and left us with 23 million people unemployed, that's what's nauseating. I think the fact that Cory Booker spoke the truth and the White House took him to the woodshed and tried to take him out of context from their own tape they did, that's really the game playing going on here. We need to talk about getting back to focusing on jobs and the White House doesn't want to do that because when you look at the credibility of Mitt Romney as a leader, a leader in his state, a leader of the Olympics, and a leader in free enterprise and private equity, they can't compare to that record."
"So does that mean that a conversation about Bain and a focusing of a campaign around Bain, which is what President Obama said was really — it's not a distraction. This is focus of the campaign. Do you think that Governor Romney is fine with that or thinks that's not a good thing?" O'Brien asked.
"If Barack Obama wants to do that," Comstock responded, "let's look at his investment at the Department of Energy, where there are 64 companies that the Inspector General is investigating for what he calls the friends and family plan. Companies like Solyndra where the President wasted half a billion dollars of taxpayer money."
"So record about Bain is absolutely fair game in this campaign?" O'Brien pressed. "Let's do it. Is that what you're saying?"
"I think what is fair game and what the American people want to focus on is jobs," said Comstock. "This President doesn't have a record because he's been wasting money on companies like Solyndra where he gave corporate friends money and there were no jobs created."
Watch O'Brien question Comstock over Romney's attack ad below via CNN:
Have a tip we should know? tips@mediaite.com