Soledad O'Brien Grills Zimmerman Neighbor Over Shooter's Injuries: Where's The Band-Aid?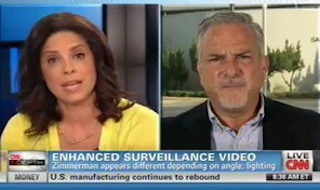 Soledad O'Brien tangled with George ZImmerman friend Frank Taaffe over the alleged injuries Trayvon Martin's shooter received during the life-and-death scuffle. O'Brien asked him about the new video footage and why there was an absence of a band-aid. "Soledad, it's clear that there are welts or gashes on the back of his head," Taafee contended. "One thing I would like to bring up is EMTs administered first aid at the scene, which was our residence. Therefore, when he was in care, custody and control of the Sanford Police Department, they ensured his care through the efforts of the Seminole County emergency services. That's why you don't see him like he came out of a 12-round fight like Rocky Balboa against Apollo Creed."
"You don't see him with even a band-aid on his head," O'Brien observed. "Looks like there's a laceration from that enhanced videotape. There's no bandage. There's nothing covering his head. If he was seen by paramedics if it was a terrible gash, it wouldn't be over the line in suggesting that a band-aid or a wrap or bandage would be indicative of a very serious head injury."
"I'm not a medical expert," Taafee replied. "You know, I've had gashes on my head, contusions that the bleeding had cessated at some point and we have to remember they were there for a duration of time in which the paramedics administered first aid before they released him to the police to go downtown. So you're not going to see as graphic as America wants to see a bloodied t-shirt, whatever y'all are looking for…"
RELATED: George Zimmerman Neighbor Slams Media For Rushing To Judgment
O'Brien interrupted Taafee and continued hammering him on why there was no physical first aid visible on Zimmerman.
"When someone claims that they've been slammed against concrete for a solid minute that people would think that there are injuries to the head that would be consistent with that.
O'Brien countered. "I guess what people are trying to see are those injuries consistent."
"They are–" Taafee interjected. Look at the tape again."
"Do you see a bandage or band-aid on it?" O'Brien reiterated.
"I did see welts. I did see swelling," Taafee argued. "I did see cuts all consistent with George's story."
Later in the interview, O'Brien questioned Taafee over a quote attributed to him in the New York Times that claimed there were other burglaries that involved "Trayvon-like dudes with their pants down."
"I never said that," Taffee fired back.
"That's a misquote from The New York Times?" O'Brien questioned.
"I never said that," Taffee maintained. "Yes, it is…I never used that term and I would go on record, I never said that."
Watch the contentious interview below via CNN:

Have a tip we should know? tips@mediaite.com