Soledad O'Brien Hammers Eric Cantor For Refusing To Answer Questions On Romney, Iran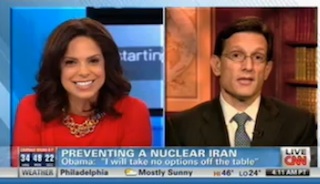 On CNN's Starting Point Monday morning, Soledad O'Brien grilled Republican Congressman Eric Cantor over his recent endorsement of Mitt Romney, asking whether the former Massachusetts governor was a "true conservative."
"Sounds like you're saying the economy, the economy, the economy. I'm curious to know if you're also saying that by your support, it's really Mitt Romney who is the true conservative here," O'Brien questioned.
"Mitt Romney — again — Soledad, not to be repetitious, but he's got a plan," Cantor said. "There is no plan like his. There's certainly no plan like his coming out of the White House. we need a pro-growth bold plan to help create jobs."
RELATED: Eric Cantor: Economy Would Be Doing Better If It Weren't For Obama's Failed Policies
"I hear you on that. I'm just — let me just — forgive me — but interrupt you for a minute. As you know, last week, a lot of conversation was, you know, who is the true conservative?" O'Brien pressed. "Does this mean that you've answered this question and the true conservative in your mind is Mitt Romney?"
"Soledad, what I believe is this election is about how we're going to make our country have a much brighter economic future so we can continue to lead and let America be America," Cantor replied, but continued to avoid directly answering O'Brien's question about whether Romney was the true conservative in the race.
"I'm just going to note that you are not going to answer that question for me, but I'm happy to move on," O'Brien acknowledged. "I get you. Economy, economy. But when it comes to being a true conservative you're not going to answer that for me."
Watch O'Brien's interview Cantor on Romney. via CNN:
Later in the interview, Cantor would not directly answer the CNN's anchor's questions about the future of Iran's nuclear program should Obama have a second term:
Have a tip we should know? tips@mediaite.com