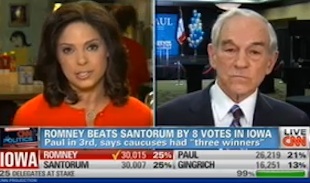 In an uncomfortably heated interview, CNN's Soledad O'Brien hammered Ron Paul on this morning's Starting Point over a deleted snarky tweet that was directed at fellow opponent Jon Huntsman. "There was this tweet that I saw last night because I follow you on Twitter," O'Brien explained. "And it said Ron Paul says, '@jonhuntsman we found your one Iowa voter. He's in Linn precinct 5 you might want to call him and say thanks.'"
Paul appeared flummoxed by her question.
"I didn't quite understand even what you just read, but, obviously, I didn't send it. So, I don't even understand. I'm sorry, I didn't catch the whole message there about Jon Huntsman. I haven't talked about Jon Huntsman in a long time. I don't know what's going on there."
CNN Loses Feed With Ron Paul-Supporting Soldier, Ron Paul Fans Cry Foul
O'Brien was referring to a tweet that was deleted by the Paul campaign last night, but not before multiple journalists screencapped it:


O'Brien re-asked her question about the deleted tweet.
"Well, it was sort of a snitty message that was sent out under your name, under your Twitter handle — @ronpaul — [It] was sent to another fellow candidate and kind of a snarky message and you say you don't tweet for yourself, someone else is sending out messages?" O'Brien reiterated.
"Yeah, I have some help on tweeting, yes." Paul stammered.
"Okay, so, when I read that, the first thing I saw, again –because I follow you on Twitter — that didn't sound super Presidential to me, and your Twitter handle is supposed to be sending out your messages and is that something you look at and back away from or say, it's Twitter, who cares?"
"I don't understand why this is an important issue or what it means and why Jon Huntsman wasn't even in the campaign," Paul, bewildered, answered. "So, I'm not sure the importance of what you're talking about. It just seems to be irrelevant to me."
Watch the uncomfortable exchange below via CNN:

Have a tip we should know? tips@mediaite.com