Soledad O'Brien Places '$100' Bet On Whether Obama's Cabinet Represents America: I 'Assume' It Doesn't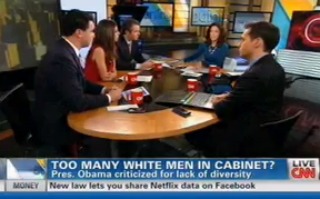 On CNN's Starting Point Friday Soledad O'Brien placed a "$100" bet on whether President Obama's cabinet represents "what America looks like." She ripped the administration for its lack of women and minorities in top White House positions.
O'Brien was disagreeing with former White House official Bill Burton on the issue and finally claimed, "Let's get someone in our office to pick the top 50 people in the White House."
RELATED: MSNBC Contributor: GOP To Blame For Obama's White, Male Inner Circle Because They Opposed Susan Rice
She continued to slam the cabinet picks, saying:
"I'm going to assume that they don't represent what America looks like. I'm going to assume that 50 percent of those top people are not women. I'm going to assume that 13 percent of them are not African-American. I'm going to assume that there is not a representation of Asian-Americans, Latinos. I feel fairly confident saying that."
"You would be wrong to make that assumption," Burton retorted.
"Want to put money on that?" she asked.
"Yes, I would," Burton said.
The two made the bet and O'Brien said she will have staff at her show "crunch the numbers."
Obama has repeatedly received criticism for his all white, all male cabinet picks from both Republicans and Democrats. Former Arkansas Governor Mike Huckabee blasted the president's own "war on women" and Fox News contributor Kirsten Powers lamented the lack of diversity in the new cabinet. Others, like MSNBC's Melissa Harris-Perry, have defended the nominations.
Watch the full clip below, via CNN:
h/t HuffPo
—
>> Follow Anjali Sareen (@AnjaliSareen) On Twitter
Have a tip we should know? tips@mediaite.com