Soledad O'Brien Presses Amanda Knox Attorney On Retrial, He Pushes Back: 'No Reason' For Different Outcome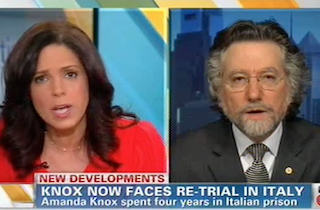 Shortly after an Italian court overturned Amanda Knox's acquittal, Soledad O'Brien spoke to her attorney Theodore Simon about the case. Pressed on the decision itself and what it means for Knox's future, a defensive Simon underlined that the charges are "unfounded" — and there's "no reason" to believe another review of the case will result in a different outcome.
Despite much "fanfare," Simon stressed that Knox was acquitted the first time around the charges are "simply unfounded" and "unjustified." There "never was any evidence, and there never will be any evidence," he asserted.
As O'Brien sought to ask him more details about the case, and whether Knox is required to appear in Italian court, Simon grew defensive, cutting in to clarify points she was makings. "Excuse me, Soledad," he interjected at one point. "There's no reason to believe that any further review will result any differently. Keep in mind, there was no physical evidence against her. And anything that was reviewed was considered unreliable, inaccurate, insubstantial."
Nothing's changed with on the substance of the case, he added, but with the process.
"Except that but what has changed it though, as you well know, is that the Supreme Court did not confirm the acquittal," O'Brien replied. "The Supreme Court did the opposite, which is now, why we're kind of where we are right now."
"They didn't do the opposite. They didn't do the opposite," Simon pushed back. "All they did is sent it back for further clarification."
Asked repeatedly about whether Knox will or be required to return to Italy, Simon avoided jumping to conclusions — "Let's not get ahead of ourselves" — and told O'Brien, "I think I did answer your question as best as I possibly can."
Take a look, via CNN:

Have a tip we should know? tips@mediaite.com