Soledad O'Brien Takes On Gun Advocate Over Assault Weapons Ban: Why Are You Against Policy That 'Does Work'?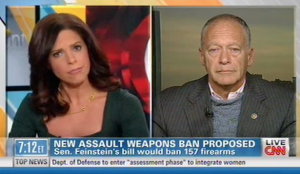 In light of Sen. Dianne Feinstein (D-CA) pursuing an assault weapons ban, Soledad O'Brien spoke to Richard Feldman, president of the Independent Firearm Owners Association, on Friday. Why, O'Brien asked, would he be against a policy that actually works?
Feldman denounced what he deemed Feinstein's "animal house approach" to policy. Outlawing these weapons didn't work 20 years ago, so there's no reason to believe this time would be any different.
"But isn't there some evidence that in fact that ban did have an effect?" O'Brien asked, pointing to a study that showed gun crimes declined during the period of the ban. "It did have an effect on automatic weapons."
We're not talking about automatic weapons though, Feldman replied — and less than one percent of crimes are committed with rifles. "So this is pretty small potatoes," he said. "Criminals use handguns not rifles."
Where we should be directing our energy, he added, is to programs like the National Integrated Ballistic Information Network (NIBIN). O'Brien again brought up the study, noting that it said attacks with semi-automatics "result in more shots fired, persons wounded, and wounds per victim than do other gun attacks."
"So why would you be against banning something that actually showed a 17 percent drop in this study, which — no one disputes this study," she asked him. Feldman replied that other studies that show "nothing significant occurred during that period," before reiterating that someone who wants to shoot will find another gun.
"It does work when they're banned, the report shows that," O'Brien pressed, pointing to the types of weapons used in massacres like the one in Newtown.
"Soledad, this bill doesn't ban the guns," Feldman said, because there are already millions out there. It will have "zero, nada" impact on the future "crazy people" committing crimes, he said. Feinstein is resorting to politics, "not zeroing in on the problem."
Take a look, via CNN:

Have a tip we should know? tips@mediaite.com