Soledad O'Brien Talks To Mediaite About Her Upcoming 'Who Is Black In America?' CNN Special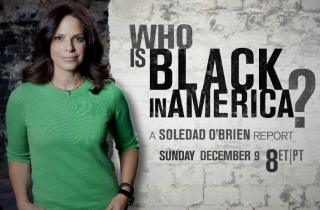 For the fifth edition of her CNN documentary series "Black in America," Soledad O'Brien plans to ask the provocative question: Who is black in America?
The answer, she found, is far from black-and-white.
Profiling a variety of young people who can be characterized as "black" for one reason or another, O'Brien tells Mediaite that she seeks to add a basic human element to a controversial topic like "colorism."
Colorism is the form of prejudice that places a higher value — consciously or subconsciously — on lighter skin tones than darker ones. Within the black community, colorism creates a great deal of turmoil. A well-known cultural depiction of this problem was in Spike Lee's School Daze, which satirized the saddening process of black sororities and fraternities applying the "paper bag test" — if you're skin was darker than the shade of a brown paper bag, you could not join. On the other hand, darker-skinned black people occasionally shun lighter-skinned people as not being truly black.
As such, most people might believe colorism is a discussion for only black people to have but O'Brien discovered that, whether or not they know it, white people are part of the conversation too.
"Most people don't understand colorism," she tells us. "But it's a very important topic about how we as a country value race. It's not just a black conversation, it's an American conversation." Drexel University professor Yaba Blay explains that colorism comes from a long history of "white supremacy" and "colonialism," in which lighter-skinned black people are valued higher by white society. And so, O'Brien says, even though colorism is mostly something that affects black Americans, "it's very much in the white community, because it comes down to white preference."
O'Brien profiles people like 17-year-olds Becca Khalil and Nayo Jones, both of whom are considered "black," but struggle to come to grips with their own mixed identities: Jones comes from a white father and a black mother; Khalil is of Egyptian descent, and is often dismissed as "Middle Eastern." Both of the girls have their African-American heritage dismissed because they are considered too light-skinned by their contemporaries.
"They exist in this strange place," O'Brien says, "It's painful to see them struggle. To not feel valued by people because of their skin color."
Conversely, African studies professor Blay has felt discriminated against because of her darker skin tone. She tells one particularly heartbreaking story about a lighter-skinned black friend not inviting her to a wedding because "my mother would pass out" if she saw such a dark-skinned woman there.
O'Brien herself comes from a biracial background — her father was Irish, her mother Afro-Cuban — and so she is acutely aware of the identity struggles people with mixed backgrounds face. She understands that the discussion of colorism in the black community is "fraught with hostility."
And so we meet a black teacher who decides to educate her students early on about something they already understand, just not conceptually: the penalties for certain skin colors. The teacher introduces her seven-year-olds to colorism as a means of starting an open conversation early in their lives. One child raises his hand and candidly explains that he wouldn't want to have darker black skin because it's "ugly" and he would be upset. Another child, shown walking with her walking with mother, explains that she simply does not want to have her dark skin.
One would think that the value placed on dark skin colors would change now that we have a half-white, half-black president. But O'Brien notes that "most black people's lives didn't change the minute obama took office" because colorism is a force that stretches back centuries and is an ingrained part of American culture.
Of course, in bringing light to these sensitive topics, O'Brien says she faces a fair share of criticism. One fan demanded that she "just stop doing these documentaries" because then problems like this "would all go away."
But as O'Brien tells us, "ignoring it is not going to make any of it go away. We need to have the conversation."
"Who is Black in America?" will air on CNN this Sunday evening at 8 p.m. ET.
Watch a teaser video below, via CNN:

— —
>> Follow Andrew Kirell (@AndrewKirell) on Twitter
Have a tip we should know? tips@mediaite.com