Soledad O'Brien Talks To Mediaite About Latino in America: Courting Their Vote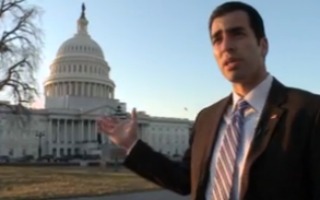 CNN's Soledad O'Brien — who anchors the network's morning news program Starting Point in addition to routinely hosting special reports — will be offering an in-depth look into one of the nation's fastest-growing (and often misunderstood and misrepresented) populations: U.S. Latinos.
In this Sunday's special report, Latino in America: Courting their Vote, O'Brien looks to Nevada to gain further insight into the goals, the frustrations, and the actions taken by this growing demographic.
But… why Nevada?
CNN looked across the country, O'Brien tells Mediaite, before ultimately settling on the state not only due to its sheer size, the fact that it's home to the fastest-growing Latino community in the nation, and the fact that the state has voted for 24 of the last 25 U.S. presidents, but also because it acts as a veritable microcosm of the current state of politics. Nevada's Republican party, as O'Brien explained, is splintering between Ron Paul supporters and those who favor Mitt Romney. And, on the Democratic side, there's Ruben Kihuen [pictured] — a Guadalajara-born member of the state senate seeking to represent Nevada's 1st congressional district as the state's first-ever Latino U.S. Congressman. But Kihuen faces an uphill struggle — something that, O'Brien tells us, unites Latinos of both major parties.
"They're both frustrated," she said. "Both sides don't feel they're getting adequate support." Republicans she spoke with expressed discomfort and frustration over the party's position on immigration, and Democrats felt they weren't receiving enough party support for their elected leaders (like, say, Kihuen).
Then there's the awareness that, as O'Brien described it, "we see a lot of people when they want our vote," but not so much when voters need answers or support. Likewise, there are myriad issues important to Latinos beyond immigration — like high unemployment, foreclosures, and the need to improve public education. Take Republican voter Cecilia Aldana, for instance. Aldana, originally from Peru, worked her way up from housekeeping to managing a chain of medical clinics, and she wants her party to increase its focus on the issues that matter to her and other Latinos within her community, like jobs, education, and immigration policies that are friendly to businesses like her own.
One big takeaway from O'Brien's discussions with various Nevada Latinos, Republican and Democrat alike, is that, ultimately, "numbers is not clout." And one goal Sunday's special report has, O'Brien explained, is to "distinguish between sheer number and actual political clout." It's a reality that crosses party lines and is echoed in interviews from the likes of LA mayor, DNC chair, and Obama surrogate Antonio Villaraigosa to Hector Barreto, one of the chairmen for the Romney campaign's Latino outreach organization, "Juntos Con Romney."
Latino in America: Courting their Vote airs on CNN Sunday at 8 pm ET and PT, with an encore airing at 11 pm.
You can watch a sneak peek of the report below, courtesy of CNN. In it, Kihuen talks to O'Brien about the Democratic party's voter outreach efforts in his state:
Have a tip we should know? tips@mediaite.com